---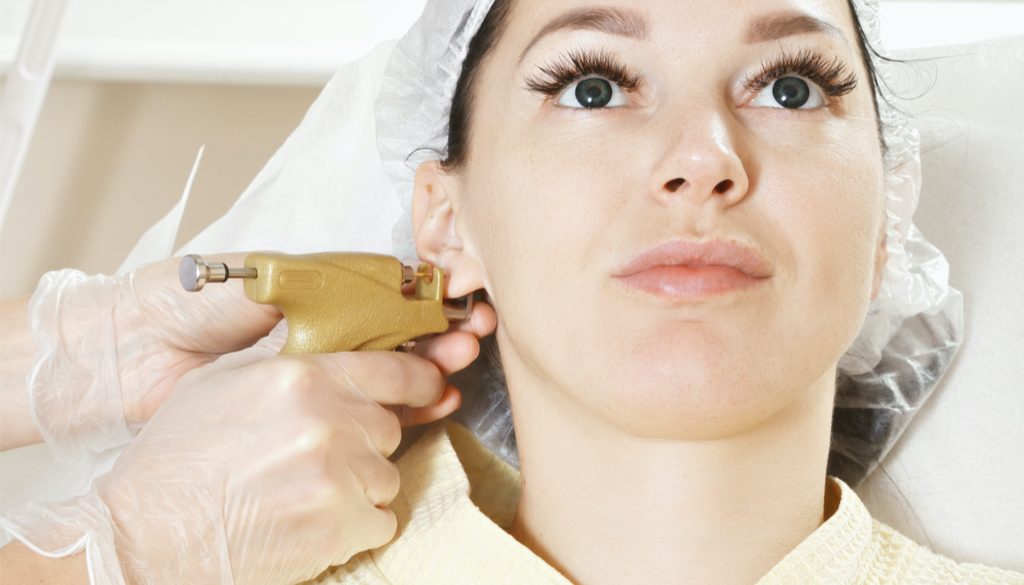 ---
Who performs Ear Piercing at Cheshire lasers?
Ear Piercing is currently not available at Cheshire Lasers, we hope to be able to provide this service in the near future. As soon as we know it will be available we will announce this in our newsletter
We use the Caflon Blu system. This involves piercing one ear at a time with a piercing gun. The ear is pierced instantly with the stud inserted into the piercing in one step. This allows for a quick, sterile and safe result.
All studs are compliant with EC nickel directive 2004.
---
Which areas can be pierced?
We provide only ear lobe piercings. The lobe as in the fleshy bit at the bottom that goes up until the cartilage. We are able to perform up to 4 piercings in this area of the ear but only 2 in one procedure.
---
How long does a piercing take to heal?
It normally takes 6 weeks to heal (perfect for school holidays)
---
What aftercare is required?
You will receive aftercare solution as part of the treatment. You will receive full aftercare information in your appointment and an aftercare sheet to take home. This is to ensure you care for your ears correctly to aid the healing process.
Please note Millie performs this procedure on her own therefore she can only pierce one ear at a time and can not pierce 2 simultaneously.
---
Age restrictions:
Children under the age of 16 must have a parent/guardian present at the appointment to give written consent.
Millie can treat children of 8 years or above, as long as the parents give consent and are present at the appointment. (However, this is at the therapists' discretion)
---
Contraindications to Ear Piercing
HIV, hepatitis, scar tissue or keloids, warts or moles in the piercing site, skin disorders.
---
How much is Ear Piercing?

Price from £25 depending on stud chosen. Such as 24ct gold plated, white stainless, titanium. Silver plated. All studs are sterile and in a sealed blister pack prior to piercing. Options include plain studs, cubic zirconia studs in various styles and colours.
---
---