---
What is Functional Medicine?
Functional Medicine determines how and why illness occurs and restores health by addressing the root causes of disease for each individual.
The Functional Medicine model is an individualized, patient-centred, science-based approach that empowers patients and practitioners to work together to address the underlying causes of disease and promote optimal wellness. It requires a detailed understanding of each patient's genetic, biochemical, and lifestyle factors. A personalized treatment plan can then be developed to improve patient outcomes.
By addressing the root cause, rather than symptoms, practitioners are able to identify the complexity of the disease. They may find one condition has many different causes and, likewise, one cause may result in many different conditions. As a result, Functional Medicine treatment targets the specific manifestations of disease in each individual.
---
The Principles of Functional Medicine
To improve chronic health conditions, Functional Medicine uses two scientific principles:
Add what's lacking in the body to nudge its physiology back to a state of optimal functioning.
Remove anything that impedes the body from moving toward its optimal state of physiology.
Our body naturally wants to be healthy. However if we are lacking in nutrients or other factors our body needs to function, or if something is preventing it from functioning correctly this can lead to poor health.
---
During your assessment our Functional Medicine Doctor considers the following:
Genetic Factors
Lifestyle Factors including nutrition, sleep, relaxation, hydration, smoking etc.
Biochemical factors
Hormone balance/imbalances
Internal Factors (mind, body, sleep and how you manage stress)
External (physical and social environment)
Digestive system
Immune system
Inflammation
---
Would I require any Investigations?
Our Functional Medicine doctor often uses advanced laboratory testing to identify the root cause or causes of the health problem. Old-fashioned medical diagnosis helps too, in the form of listening carefully to the history of symptoms and asking questions about activities and lifestyle.
---
For treatment, our Functional Medicine Doctor uses a combination of treatments including:
Supplements including nutraceuticals and homeopathics
Bioidentical Hormones
Nutritional Changes e.g. therapeutic diets, detoxification programs
Lifestyle changes e.g. exercise plans
Spiritual/emotional counselling e.g. stress management techniques
Pharmaceuticals
Functional neuro-rehabilitation
---
How is Functional Medicine Different from Traditional Medicine?
Functional medicine involves understanding the origins, prevention, and treatment of complex, chronic disease, instead of just treating symptoms.
Identifying and addressing the underlying causes of health problems can help you get well and stay well without unnecessary drugs, treatments or surgery.
Functional medicine requires patient-centered care, promoting good health
By listening to the patient and understanding their concerns and medical history, our doctor can create a science-based treatment plan that meets an individual's unique needs.
Educating the patient about their condition empowers them to take charge of their own health
Functional medicine still integrates traditional Western medical practices with what is sometimes considered "alternative" or "integrative" medicine, creating a focus on prevention through nutrition, diet, and exercise; use of the latest advanced laboratory testing and other diagnostic techniques not always available on the NHS.
For example, doctors would normally prescribe drugs like Omeprazole to treat acid reflux or heartburn. When the patient stops taking it, the heartburn symptoms often come back. In contrast, a Functional Medicine practitioner might find that a patient's acid reflux is caused by a bacterial overgrowth. Eradicating the bacteria might very well lead to the end of heartburn symptoms.
---
The diagrams illustrate a diagnosis can be the result of more than one cause.

---
Likewise, a cause such as inflammation may lead to a number of different diagnoses, including depression.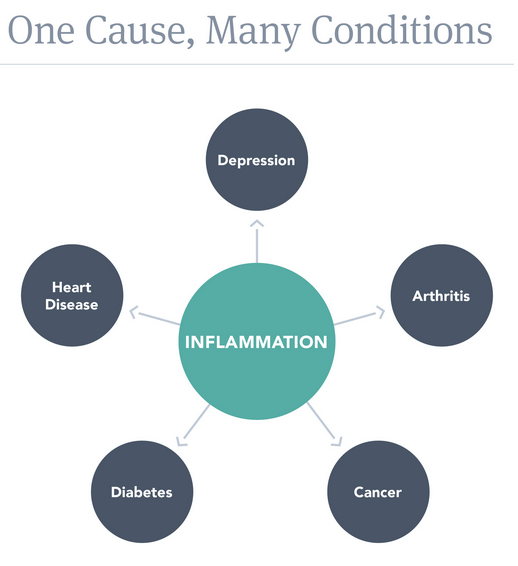 ---
Who Provides Functional Medicine Services at Cheshire Lasers?
Dr Priyanka Vaidya a General Practitioner ( GP) and Functional Medicine Practitioner will be providing Functional Medicine Services later in the year. She practices evidence-based traditional medicine and combines this with patient-specific Functional Medicine to create a patient-centred personalised treatment programme aiming to ensure her patients get the best possible care, with optimal health and well being.
---
How do I arrange a Functional Medicine Consultation?
This service will be launched in the Winter of 2021 after CQC approval has been obtained.
1) Contact us and we will arrange for Dr Priyanka to send you a comprehensive questionnaire to complete at home.
2) Complete this form which may take approximately 90 minutes and Email it back to Dr Priyanka.
3) Dr Priyanka will then schedule a brief phone call with you free of charge to discuss your concerns and schedule a face to face consultation.
4)We can then book your appointment at the Clinic subject to a £50 deposit, which can be deducted from your consultation fee.
5) Please be aware, Dr Priyanka has a 48 hour cancellation policy. Cancellations with this less than 48 hours notice can occur a fee as advised here.
If asked please bring a copy of your "brief summary" from your GP notes and a copy of your prescriptions. If you have had NHS blood tests or other investigations getting copies of these will also be helpful.
6) The consultation takes up to an hour and may require further investigations at an extra cost.
7) A follow up appointment is then arranged to review your results and put in place a treatment plan.
8) Further follow ups may be required to monitor your condition and provide you with support.
Dr Priyanka will provide support via email between appointments.
---
Costs for Functional Medicine Consultations and Services at Cheshire Lasers :
Initial Consultation fee (up to 1hr) £180
Follow up appointments £65
Booked telephone consultation £35
Prescription admin fee £20
Hormone / blood assessment approx £200
---