---
How can I have a Mole Removed?
At Cheshire Lasers Clinic Mole Reduction treatments are performed by Aesthetic Nurse Moira Jouvence Aesthetics. 
Moira performs mole reduction using Advanced Electrocautery (heat treatment). Advanced Electrocautery uses electricity to create energy in the form of heat.
A tiny needle is used to accurately direct the electric current to the area to be treated. This cauterises the tissue and reduces/shrinks the mole very effectively. The mole reduces down to skin level, achieving a beautiful smooth appearance.
Moira will tailor your mole reduction treatment to your specific needs, so your experience is comfortable with minimum pain.
---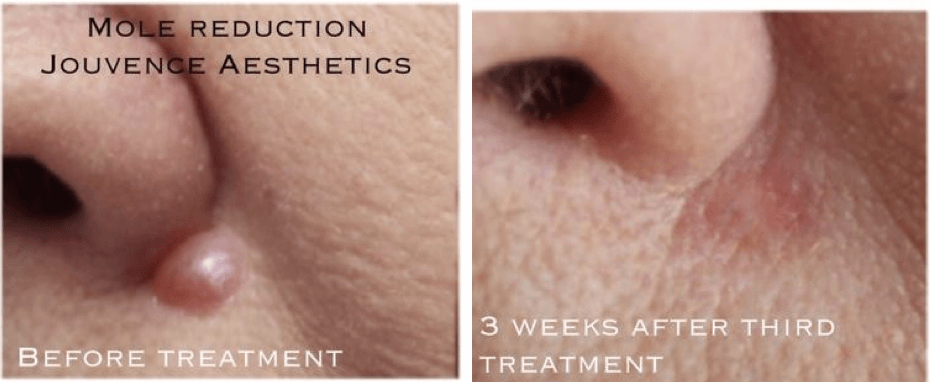 ---
How long does Mole Reduction take?
A Mole reduction treatment takes 30 minutes to an hour.
Small moles may need one or two treatments, larger moles may need 3 or 4 treatments.
---
Side effects of Mole Reduction:
Side effects of electrocautery are usually very minimal and limited to some initial crusting & redness around the treated areas. The treated area may remain slightly pinker for a few weeks depending on the size of the mole & your skin type.
Moira will give full aftercare advice in your consultation.
---
What are Moles?
Moles are a very common skin lesion that can occur in people of any age. They are not usually harmful, however, if they are prominent, they can cause people to be self-conscious.
---
Mole reduction examples:

---
---