---

---
What is the Hydro2 Facial?
Do you love hydrafacial? but fancy something more? If so this new luxury facial may be perfect for you!
The Luxury Hydro2 Facial is the ultimate 5-star facial.  It includes  7-technologies in total.   It contains a hydrafacial treatment but also utilises 6 other technologies to deliver outstanding results for all skin types and concerns.
Using this device Cheshire Lasers can offer a range of different facials to deliver brightening, tightening, anti-ageing as well as clearing skin
The treatments are customisable to all skin types to meet all skin needs and vary from 30 to 110 mins.
Our Luxury Hydro2 Facial incorporates all 7 steps and is the ultimate pamper package.
---
Here are the 7 treatment technologies which can be incorporated into your Hydro2 Facial:
Treatment 1: The Hydro Deep Cleanse
Similar to the Hydrafacial this uses a combination of three solutions to cleanse and smooth the skin using an AHA & BHA based solutions. It hydrates and nourishes the skin infusing lactic, salicylic and hyaluronic acid to deeply cleanse, purify and hydrate.

Treatment 2:  Exfoliation
This treatment step uses a vibrational cleansing tool and a choice of exfoliation products. It utilises 'the Bohr effect' to allow oxygen to be drawn into the skin. The active ingredients can include Kojic Acid and Retinol which result in a hydrating and brightening effect.
Treatment 3: Radiofrequency Skin Tightening
This step uses Radio Frequency technology to increase collagen reproduction. We recommend this step for skin with early and late signs of ageing.

Treatment 4: Skin Lifting with Electro-ion technology
The Electro-ion technology creates skin lifting by stimulating muscle contraction. It is similar to CACI and works well for jowl and eyebrow lifting.
It uses electroporation which also increases the absorbency of the skins cells for product penetration. This allows our time defence and brightening serums to penetrate deeper into the skin.
This, in turn, revitalises and 'wakes up' dull and lifeless skin

Treatment 5: Fire & Ice
5 A – The 'Fire' represents the heat element during treatment. The handpiece uses heat to open the pores, increase blood supply and aid product infusion.
5 B – The 'Ice' a Cryo facial that uses cooling technology, chilling the skin down to 5℃. This step comes at the end of each facial. It decreases the blood supply, giving a tightening effect and sealing in the infused products. It also helps to reduce any redness following treatment.

Treatment 6: Ultrasound / Hydration
This step uses ultrasound technology to infuse a hydrating collagen-rich serum from a mask for maximum penetration.

Treatment 7: Oxygenation
The Oxygenation spray is used to apply a hydrating serum. It creates a Venturi effect which breaks down the serum molecules and encourages maximum absorption. This helps to deliver intense skin hydration.
Applying oxygen to the skin using this method helps to increase cell metabolism and improve these concerns. Some bacteria are not able to live in oxygen, so applying oxygen to the skin will give this anti-bacterial effect, having a positive effect on congestion.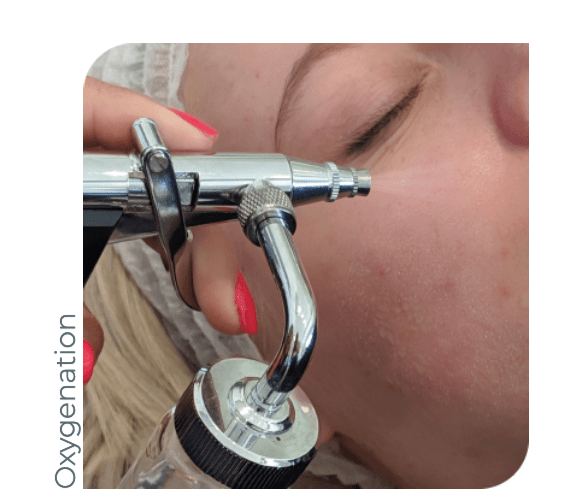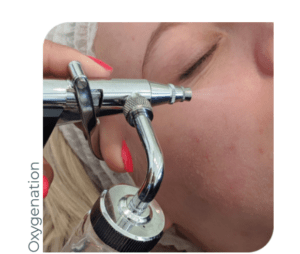 ---
Which Hydro2 Facial should I have?
We can deliver a range of bespoke facials using these 7 technologies and can also add on Dermalux LED according to your requirements.
Here is a list of some of the most popular ones:
The Radiofrequency Collagen Stimulating Hydro2 Facials
The Luxury Ultimate 5-star Hydro2 Facial – 100 mins all 7 treatments listed above.
Radiofrequency Hydro2 Facial- 70 mins – Treatments 1, 3, 6 and 7
Radiofrequency Facial for Neck and or Face- 50-70 mins – Treatment 3
The Deluxe Hydro2 Facials
Clear Skin Hydro2 Facial Facial – 60mins – Treatments 1, 2, 4, 5B, 6, and 7
Brightening Hydro2 Facial Facial – 60mins – Treatments 1, 2, 4, 5A, 5B, 6, and 7
The Time Defence Hydro2 Facial Facial – 60mins – Treatments 1, 2, 4, 5A, 5B,6, and 7
The Hydro2 Facials
Clear Skin Express Hydro2 Facial – 30 mins – Treatments 1, 6 and 7
Brightening Express Hydro2 Facial – 30 mins – Treatments 1, 6 and 7
Anti ageing Express Hydro2 Facial – 30 mins – Treatments 1, 6 and 7
The Express Basic Hydro2 Facials
Clear Skin Express Facial – 23 mins – Treatment 1
Brightening Express Facial – 23 mins – Treatment 1
Anti ageing Express Facial – 23 mins – Treatment 1
---
Hydro2 Facial Prices
View our Hydro2Facial prices here
Book now and view or Special Offer prices here.
---
Check out this review from 2019 featuring Danielle Lloyd.
---
Check out the Singing Dentist experiencing his first-ever  Deluxe Hydro Facial we think it's hilarious.
---
Here is our feedback from our first treatment:
HYDROFACIAL – 5* ultimate facial!! Everything you could ever want in one facial! I've experienced many facials over the years, but this treatment absolutely blows everything else out of the water!! Highly recommended – it combines a traditional hydra facial with radio frequency (using a much improved and more superior machine), together with muscle stimulation and tightening (similar to a CACI facial – of which I'm a huge fan). It doesn't stop there, my therapist Natasha continued the treatment with lots of anti-ageing and hydrating serums and a gel mask infused with collagen and antioxidants, which was stimulated using sonic vibration. The final stages were an oxygen facial and finally a cryo-facial. As I stated, this 5* facial combines absolutely everything!!
My therapist, Natasha was extremely knowledgeable and friendly, she explained every procedure and highlighted the benefits!!
The results are AMAZING, my skin is positively glowing and lifted! Definitely a red carpet treatment. Give it a try, I promise you, you won't be disappointed
---