---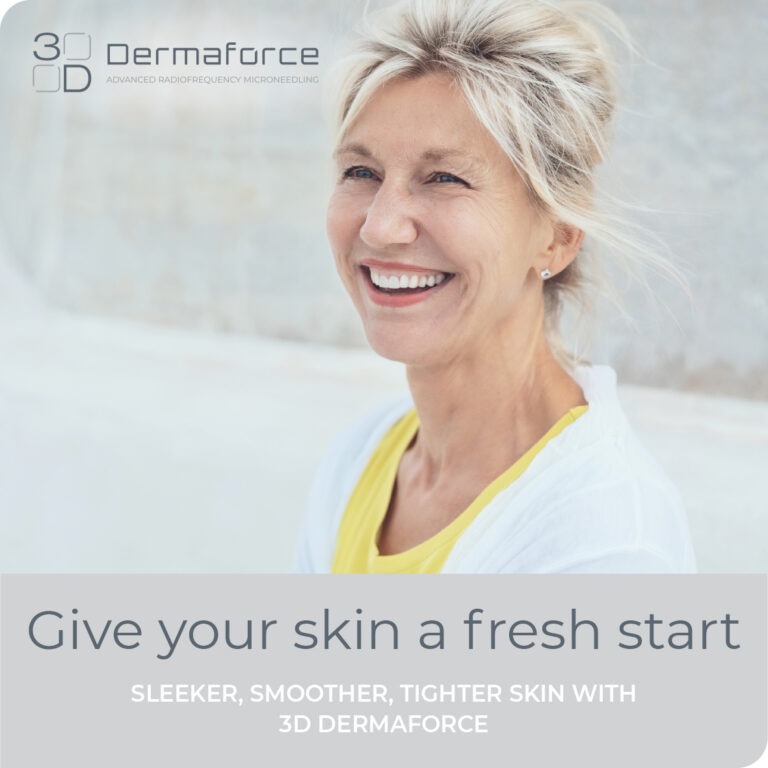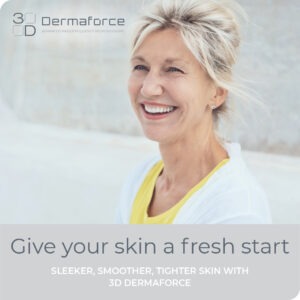 ---
At Cheshire Lasers, we use Dermaforce to deliver RadioFrequency (RF) Microneedling. This advanced treatment combines microneedling with Radiofrequency (RF) technology to effectively treat a large number of cosmetic concerns, with excellent results.
This combination treatment has become more and more popular recently due to improvements in the way the technology is used to deliver better results. It is also more popular due to its extensive coverage on social media and in the press.
---
How RadioFrequency Microneedling Works
Insulated fine gold-plated needles deliver Bi-Polar Radio Frequency (RF)  into the skin. The depth of the treatment varies depending on the skin concerns that need treating. The radiofrequency energy heats the tissue in the region of 55 – 65°C and, depending on the depth, will stimulate cell renewal, new collagen, increased hydration and resurfacing.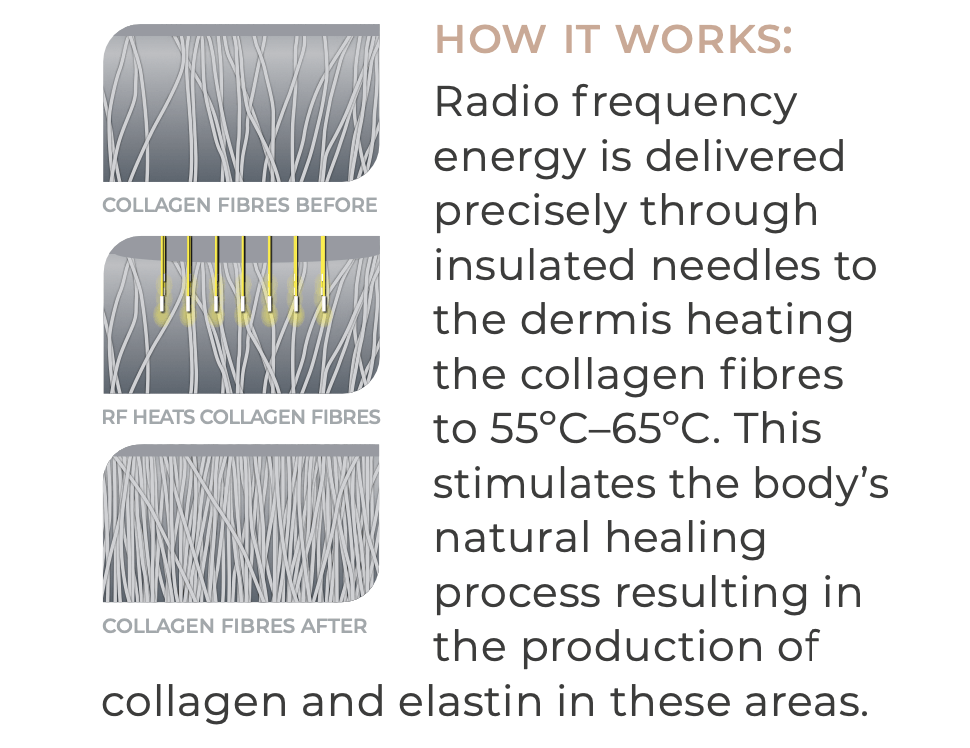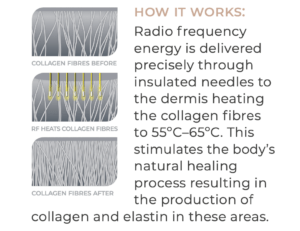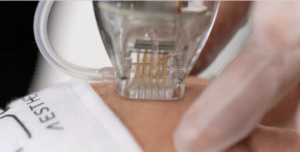 ---
How is New Collagen Stimulated?
The energy/heat released into the skin causes immediate trauma to the existing mature, dehydrated collagen cells causing contraction and damage to this tissue. This damage stimulates a fibroblast action (fibroblasts are the connective tissue cells that produce collagen and elastin) which results in the production of new collagen and an increase in the diameter of the collagen fibres. The spaces between the fibres are also reduced.
This result causes an increased density of the dermal layer giving a skin-tightening effect.
---
What Can RadioFrequency Microneedling Treat?
Loose and Sagging Skin
Fine Lines and Wrinkles
Pitted Skin
Uneven skin texture
Stretch Marks
---
Which areas can it treat?
We usually recommend a full-face treatment rather than treating specific facial areas. However, we can focus more on specific areas if they need more improvement.
We can also treat some body indications as well.
Areas that we can focus on include:
Crows feet
Neck and decollete
Perioral area
Jowls and jawline
Large pores
Scaring
---
Before and after RF Microneedling


After one treatment at Cheshire Lasers.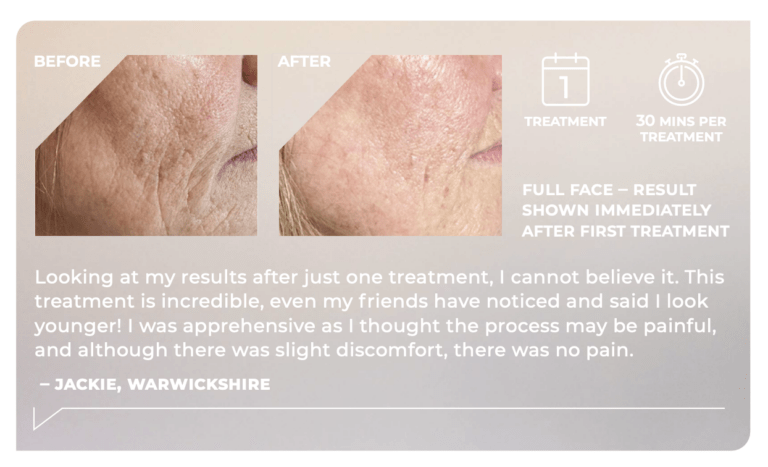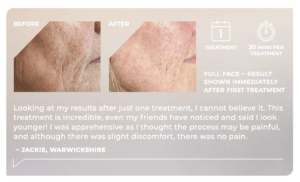 Before and after supplied by the manufacturer
---
Contraindications to RF Microneedling
Pregnancy, recent pregnancy or breastfeeding
Pacemakers
Metal Implants near the treatment area ( within 2.5cm ) Exclude fillings and most dental work.
Infected or inflamed skin
Any active infection
Uncontrolled Diabetes and Epilepsy
Some Auto-Immune Conditions
Active Cancer
Keloid Scarring (historical or current)
Skin Thinning Medication, including Roaccutane Steroid Medication
Anticoagulant Medication
Selected Immunosuppressants
Hernia or Mesh near the treatment area
If you have a history of cold sores, you must discuss this at your consultation.
---
Intervals Between Other Treatments.
For the following cosmetic procedures, allow a two weeks window before and after treatment:
Botox
Superficial Peels
Microdermabrasion
IPL / Laser
If you have had the following procedures in the treatment area in the last 18 months, you will require a medical assessment to assess your suitability:
Dermal Fillers
Sculptra
Skin Boosters
Threads
If it is in a different area, treatment can be commenced 2-8 weeks later, depending on your assesment.
Retinol product and Prescription Vitamin A treatments stop three days before treatment and restart at least three days after or once the skin has fully recovered.
---
What is a RF Microneedling Treatment Like?
The treatment can be uncomfortable due to the needling and the heat generated. We can reduce the discomfort by applying anaesthetic cream before your treatment.
During the treatment, your skin will go red and will start to feel warm, like sunburn.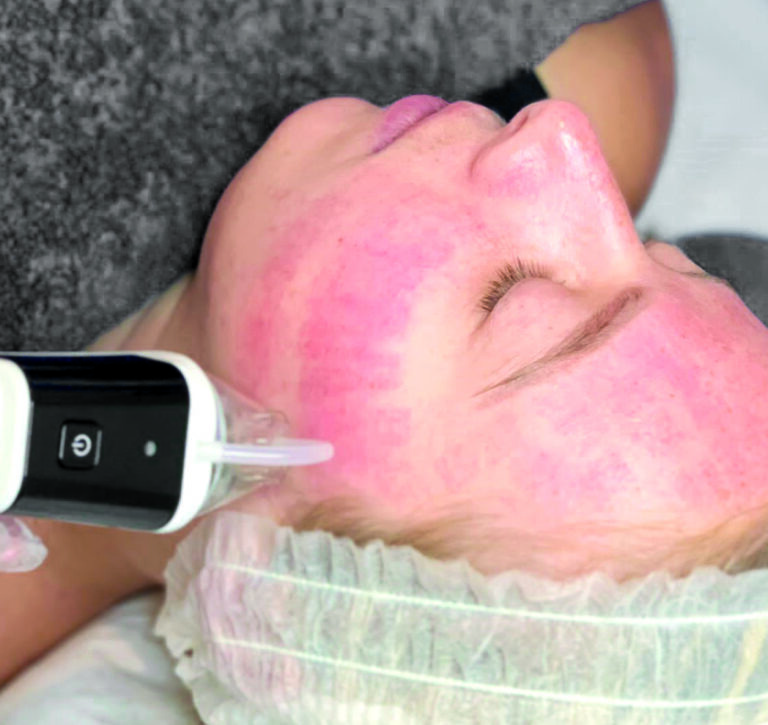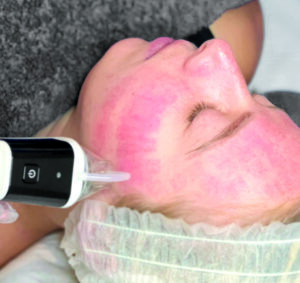 During Treatment


Shortly after Treatment
You will see red squares on your skin due to heat energy and the vacuum in the handpiece. These squares usually go in a few hours, but sometimes it can take a few days for them all to go from the face, and even longer after body treatments.
Up to 24 hours: you will possibly experience erythema and mild swelling.
 2–3 days: reduced erythema and minor skin dryness and flaking.
3–4 days: potential dryness.
4–5 days: full recovery.
4–6 weeks: improvement in collagen health visible.
---
Side Effects after RF Microneedling
Expected side Effects Include:
Redness for up to 24 hours
Mild Swelling up to 24hrs
Dryness and Flaking for around three days
Complete recovery usually occurs 3 to 5 days after treatment.
Less Common Side Effects Include:
Bruising
Prolonged redness or red patches for several days
Prolonged dryness and flakiness for a week
Please contact us if you experience any other side effects after your treatment,
---
Pre Treatment Advice:
Stop using 'active' skincare three days before treatment (ie. AHA, BHA, Retinol (Vitamin A)).
Avoid direct sun exposure before and after treatment.
Excessive facial hair, beards and moustaches need to be clean-shaven prior to treatment.
Avoid the use of aftershaves and perfumes on the treatment area.
---
Post Treatment Care
Avoid direct sunlight for 24 hours, and no sunbeds during your Dermaforce course.
Do not apply spray tan or self-tan for 2–3 weeks post-treatment.
Use SPF 50 sunscreen.
Avoid touching the skin directly after treatment.
Keep skin dry for 24 hours and avoid scratching
Avoid active skincare for 3–5 days after treatment.
No swimming for 24 hours
No exercise or strenuous activity that will cause sweating until the skin has recovered.
---
Post Treatment Suggestions
Use a clean pillowcase.
Use hydrating and anti-inflammatory skincare.
Avoid non-mineral makeup for 24 hours.
Avoid swimming, hot tubs, saunas and active exercise for 48 hours.
Consider the environment. Hot, humid conditions can contribute to excess inflammation.
Avoid shaving area for 24–48 hours
Do not allow pets to lick the skin
Face masks should be disposed of and not reused.
Do not pick flaky skin.
Drink plenty of water