---

---
Whats is the EndyMed Jawline Shaper Treatment?
Cheshire Lasers Clinic is excited to introduce the Endymed Mini Shaper.
This innovative handpiece has a unique concentric electrode surface, which provides focused 3DEEP Radiofrequency energy deep into the skin for maximum results. The Mini-Shaper is the most effective handpiece available today for treating the jowls and under the chin.
The Mini Shaper stimulates collagen production and increases fat cell turnover. This allows us to contour the jawline and deliver an effective tightening action to treat sagging, lax skin as well as improve tired, dull skin.
---
How does the EndyMed Jawline Shaper work?
The shaper handpiece delivers controlled radiofrequency energy delivery exactly where it needs to be. The radiofrequency energy penetrates the dermis down to 7mm which is much deeper than our other treatments.  The Mini-Shaper offers nearly twice the power than other similar-sized RF treatment handpieces on the market. It also maintains tissue heat for long after the treatment is complete, providing extremely effective heating.
The heat energy stimulates existing collagen and encourages the production of new collagen to give tighter, firmer more lifted skin. It also focuses on fat cells which helps reduce the heaviness of the jawline to deliver an improved contour.
The following diagram demonstrates the treatment area:

---
How soon can I see results?
Results can be seen immediately but a course of treatments are required for the best long-term results.
The pictures here show the results before and after only one treatment. These results are short term and will improve and last longer after a course of treatments.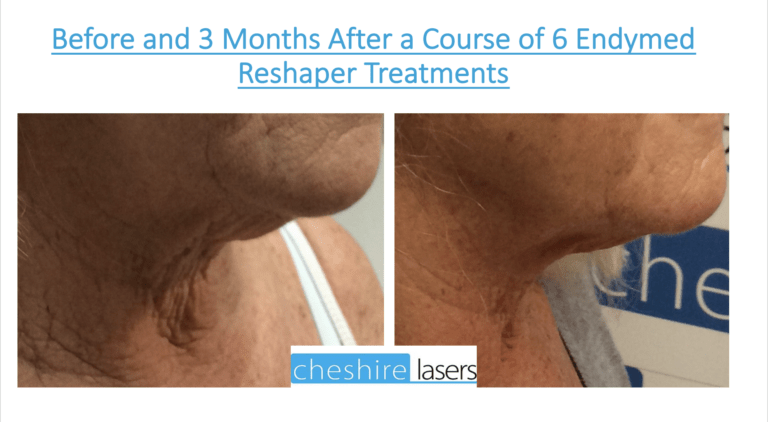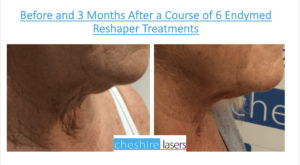 ---
Who is the EndyMed Jawline Shaper Treatment suitable for?
This treatment is suitable for all skin types. We highly recommend it if you have heavy drooping jowls or have skin laxity and sagging under the chin.
---
Is there any downtime?
The EndyMed Jawline Shaper treatment is painless with little to no downtime. You may experience some redness in the treated areas, but this will subside within a few hours.
---
How many treatments will I need?
We recommend a course of six treatments for optimal results. Ideally, we like to book the treatments every 1-2 weeks.
Following the initial treatment course, we recommend one treatment every 2-3 months thereafter to maintain the best possible results. However, some people are happy with the results of a maintenance treatment every 3-6 months.
---
How much is an Endymed Jawline Shaper Treatment?
View the prices for our Endymed treatments here.
View our Special Offers for Endymed Treatments here. 
---
More Endymed Jawline Shaper before and after images:

---