---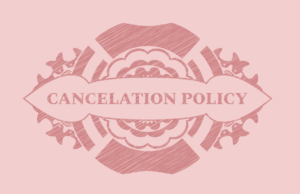 ---
Cancellation Policy
Cheshire Lasers has a 48-hour Cancellation Policy this does not include Sundays.
Please allow at least 48 hours' notice of cancellation or rescheduling of appointments, otherwise, a fee will be charged. For appointments on Monday, we ask that we are informed on Friday as the 48hrs does not include Sundays.
Should you cancel your reservation less than 48 hours before your scheduled appointment, we not only lose your business but also the potential business of other clients who may have taken your scheduled reservation time. For this reason, we are obligated to charge to compensate for our Aestheticians time as well as the clinic room that has been booked out for the treatment/consultation. The fee does not compensate for lost revenue.
---
How much is the Cancellation Fee?
The late cancellation fee is 30% of the cost of the scheduled treatment.
If you ring to cancel or reschedule your appointment with less than 48 hrs notice we will ask for you to pay the 30% cancellation fee over the phone or on our appointment system.
We can not accept cancellations by email if less than 48hrs notice is given, as we can not accept payments by email.
Due to emails sometimes arriving late or not at all, we ask that you make sure you have received a reply to any cancellation or rescheduling requests before assuming your email has been actioned. Our policy is to always respond quickly to your email, if you have not received a response quickly please phone us on 01606 841255 to avoid unnecessary charges.
---
No Show Policy
When someone does not attend an appointment our staff have had to prepare your paperwork as well as the room and the equipment needed for your treatment. Once they have waited for someone to show up and realise they are not coming they then have to clear away everything.
On occasions, our staff may have come in, especially for a specific treatment which has additional time and cost implications for our team members.
How much is the fee for not attending an appointment?
To reflect the inconvenience and implications of someone not attending an appointment, Cheshire Lasers charges 50% of the value of your missed appointment should you not attend.
Should you not attend an appointment the no show fee can be taken on our FRESHA online appointment system or over the phone.
Please be aware our cancellation and no show policies apply to everyone.
---
Repeat offenders
We understand occasionally problems occur and appointments cannot be kept. However, clients who cancel last minute or do not attend twice in 12 months will be asked to pay 50% in advance at the time of booking their appointment.
Clients who do not attend three times in 12 months will be asked to pay for the full treatment in advance at the time of booking for all further treatments for next 12 months.
If they continue to cancel last minute or do not attend they will be asked to book elsewhere for their treatments.
Thank you for your understanding.
---
Arriving Late Policy
Please try and arrive 5 to 10 minutes before your appointment. This allows you to unwind and to fill out any consultation forms required for your treatment.
We will always try to accommodate clients who are 5 or 10 minutes late. However please help us by phoning us to let us know, as it may be better to reschedule your appointment. If you are any later for your appointment your treatment may have to be shortened or cancelled.
---