---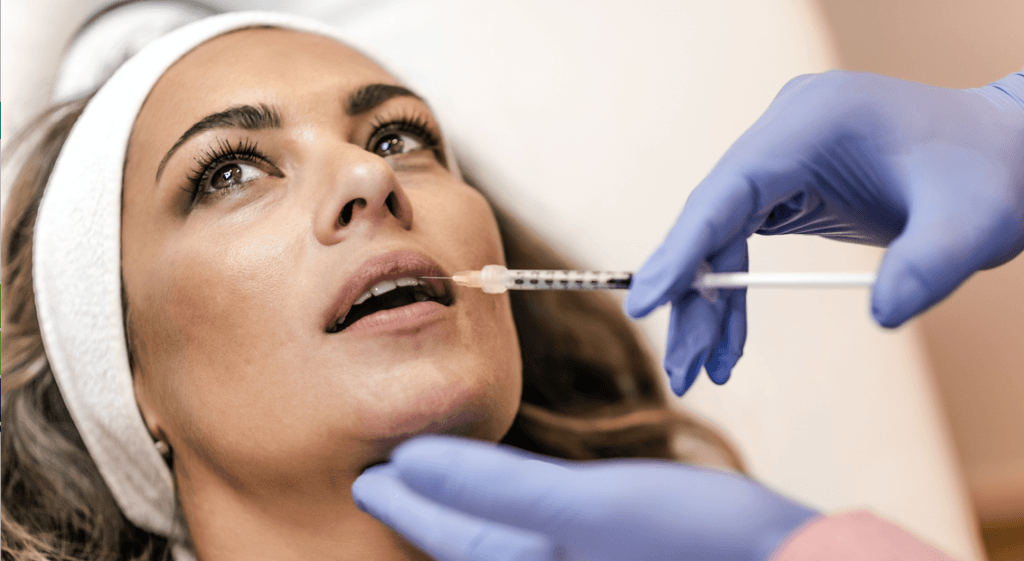 ---
What are Dermal Fillers?
Dermal fillers are injectable treatments that reduce the appearance of wrinkles, lines and deeper folds, rejuvenating the skin to give a more youthful appearance.
---
Are Dermal Fillers Permanent or Temporary ?
Dermal fillers tend to be broadly classified into two types of dermal fillers, either non-permanent (resorbable) or permanent (non-resorbable).
Non-permanent fillers last 6-18 months depending on the product used.
Dr Teri Johnson and her associates only use resorbable fillers because permanent fillers have a higher risk of permanent side effects.
---
What do Dermal Fillers contain?
In the 1980s collagen was the first dermal filler approved in the USA.
However, the leading dermal fillers available in the UK mostly contain hyaluronic acid. Hyaluronic acid is a natural component of our own skin which can be synthesised artificially to create a dermal filler. Hyaluronic acid-based fillers have the advantage that they can last 4 to 18 months depending on the product and they can be broken down by the enzyme hyaluronidase if needed so the filler can be removed more rapidly if necessary.
Other non-permanent fillers to be developed include ones using Poly-L-lactic acid and calcium hydroxylapatite.
---
Which Dermal Filler should I have?
Dr Teri Johnson and her associates collectively have had many years of experience performing thousands of treatments with a wide variety of dermal filler brands. This experience has helped them work out which fillers work the best in different areas for different skin types and indications, to give the effect you want to achieve. Some dermal fillers suit some skin types more than others. There is no single perfect filler, different ones last longer in some people than others. Different skin types respond better to different products.
At your consultation,  your medical practitioner will assess your skin type, thickness, hydration and texture and the problems you hope to address. They can then recommend the most appropriate treatment for you and will show you some before and after images of her previous treatments that she has performed with that product to enable you to decide if the treatment is for you.
---
Which Dermal Fillers do Cheshire Lasers use?
Dr Teri and her associates use only quality assured premium Dermal Fillers at Cheshire Lasers. Well known established Dermal Filler brands such as Restylane, Juvederm Ultra, Juvederm Vycross, Radiesse, Ellansé, Teosyal, Belotero.  Each specialist has a different experience in different products and has different preferences.
If you have had dermal fillers in the past it is helpful to give your medical practitioner as much information as possible about the treatment. It will benefit you and them to know which products have been used, where they were injected. It is also helpful to know if the treatment gave you the results you were expecting and if you had any unwanted effects from the treatment.
Dermal fillers come in different thicknesses, in general, the thicker products help contour the face. Whilst thinner products are great for hydrating the tissues and are more effective in treating finer superficial lines.
---
What can Dermal Fillers treat?
Popular Dermal Filler treatment areas include:
Smokers Lines
Lip Rejuvenation for ageing shrunken lips
Lip Enhancement to volumise lips
Cheek Enhancement
Temple Enhancement
Chin Enhancement
Marionette Line reduction
Naso-labial folds (nose to mouth lines)
Hand Rejuvenation
General Volume Enhancement
The 8 point lift
Scars
Advance Technique Treatments are also available:
Nose Reshaping
Tear Trough Rejuvenation
Forehead Enhancement / Brow Lift
---
Which Dermal Filler Treatment does Dr Johnson specialise in?
Dr Teri Johnson has years of experience in all the above treatments. However, there are few treatments she excels in due to her continued passion for learning and development.
One of the treatments she loves performing the most is  lip and peri-oral Rejuvenation, This treatment is used to refresh the lips and the peri-oral area and also prevent further signs of ageing.
Dr Teri is one of the few Sculptra specialists in Cheshire, she performs hundreds of Sculptra treatments a year and it is her treatment of choice for clients looking for a natural volumising rejuvenation treatment, the great thing is it can last 2 years.
Dr Teri also enjoys performing full face enhancements to reduce signs of ageing.
Find out more about Dr Teri's specialist areas here. 
---
What does a Dermal Filler Treatment involve?
---
---
---
---
---
Hyaluronidase is a prescription treatment which doctors and nurse can use dissolve Hyaluronic acid fillers.
Find out how it works and how to access this treatment at Cheshire Lasers here. 
---
How much are Dermal Fillers?
At Cheshire Lasers Dermal Fillers start from £220.
The price varies dependent on the filler, the location, the specialist performing your treatment and the number of syringes and sessions required.
This page shows all our specialist performing Dermal Fillers at Cheshire Lasers and links to their price lists. 
---
---
---