---

---
What is Cyspera Cysteamine C
ream

?

Cyspera is a 5% Cysteamine cream, it is a skin-lightening agent for the treatment of hyperpigmentation disorders such as age spots, melasma and postinflammatory hyperpigmentation. 
---
How does it work?
As the name implies, the cream contains cysteamine, a metabolite of L-cysteine and a natural cellular component. L-cysteamine inhibits the production of melanin in the skin in several different ways which is why it is so effective.
There is a randomised, double-blind, placebo-controlled clinical trial that confirmed the efficacy of cysteamine cream in the treatment of epidermal melasma.
A reduction in pigmentation is usually seen after 6 weeks of consistent use. It takes 8 to 12 weeks of regular use to achieve optimal results.
---
Contraindications

to use:

Cysteamine cream should not be used by anyone with a personal or family history of the depigmenting disorder, vitiligo.

Do no use if you are pregnant or breast-feeding.
---
Can I use Cyspera
 in the summer?
You can use this treatment any time of year regardless of the intensity of sunlight, it is not a photosensitiser.
---
I have a dark skin tone can I still use it?
Yes it is suitable for all skin types and skin tones.
---
How to use Cyspera Cysteamine C
ream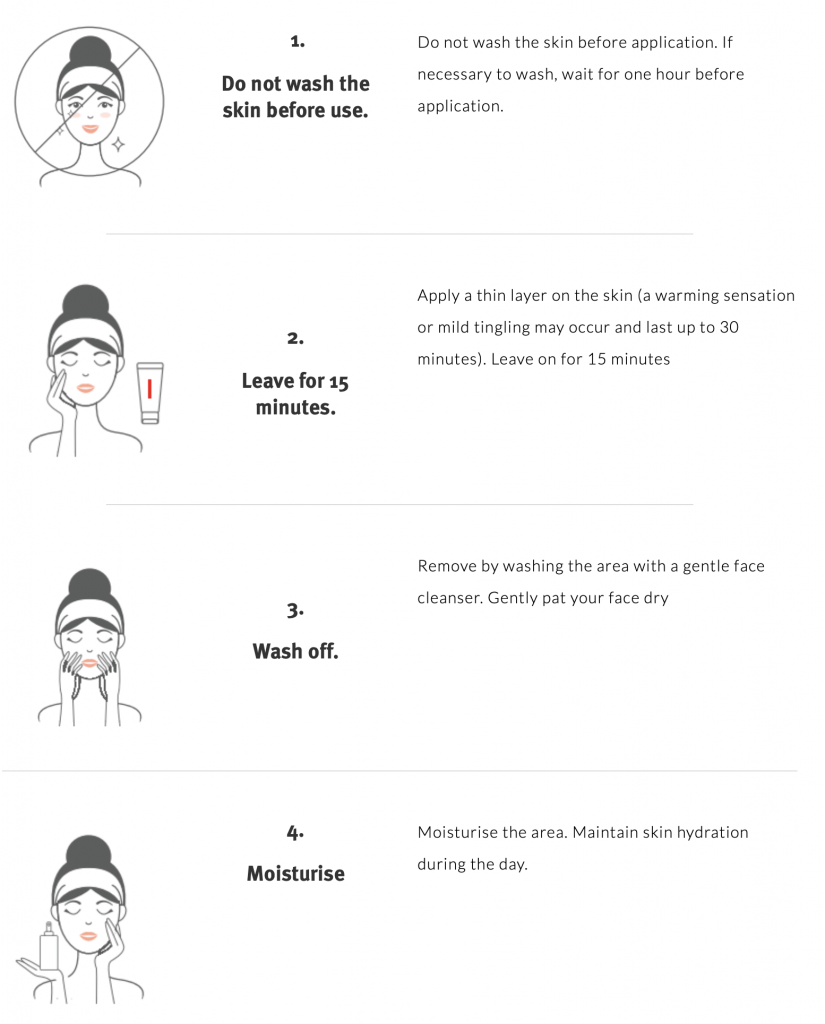 Intensive phase: Once per day for up to 16 weeks.
Maintenance phase: Twice-weekly, once per day, indefinitely.
Use a high SPF sunblock to prevent activating the pigmentation.
For best results, you need to make sure you are consistent and apply it daily for the full 15 minutes.
---
What are the side effects and risks?
Local side effects at the site of application may include:
Temporary heating up or burning sensation and redness that clears within 30 minutes
More persistent irritation and dryness, which you can treat with an emollient.
A burning sensation and mild redness might occur immediately after application, but it will usually disappear after 30 minutes. This is a normal reaction and may happen during the first few days of application.
No significant side effects, other than light to mild irritation are reported in only a few cases.
In case of sustained redness, irritation or dry-skin, suspend Cysteamine application and carefully hydrate the area with your basic hydration cream. You can then gradually resume Cysteamine application once your skin has recovered — once again, not washing it off your face until it has been on the skin for 15 minutes.
Undesirable side effects are rare if:
You leave the cream on for longer than 15 minutes of exposure.
You do not wash your face less than 1 hour before application.
---
How do I avoid cysteamine cream side effects?
You can minimise side-effects by:
Avoid washing your face just before applying.
(always wait for at least 1hr before applying)
Avoid prolonged application time use for 15 minutes only.
Avoiding concomitant use with other topical products.
---
We are unable to publish the price of this item online please contact us by phone on 01606 841255 or email us at cheshirelasers@hotmail.co.uk and we will be happy to help you.
---
---
---
---
This original version of Cyspera is being discontinued.
If you have not used Cysepera before we recommend you try the new version.
---
If you have not used Cypsera before and would like to purchase it. Please complete the following form and we will arrange a phone consultation to advise you on how to use the product.

---