DermaQuest's Skin Brite Peel is specifically formulated to treat pigmentation for all Fitzpatrick skin types 1-6. All pigmentation can be treated including sun damage, post inflammatory, melasma, acneic conditions and skin types 1 – 6.
This peel brightens skin tone, whilst lightening and diminishing pigmentation.
Additional benefits are:
Hydrates your skin Reduces fine lines
Produces a smoother softer appearance of the skin
Helps control oil secretion
Reduces follicle blockage
Eliminates and prevents razor bump
Increases the skins ability to absorb home products
A course of 3-4 treatments are recommended for best results.
Peel preparation
Your skin must be prepared 3 – 8 weeks prior depending on the skin type using appropriate DermaQuest cleanser, B5 Serum, Skin Bright Cream.
Post peel
You should expect visible peeling for 5-7 days after the treatment you should use the products we recommend and you should use sun protection of SPF50 on the treated areas during this period.
Who should not have this peel?
This peel is not suitable for people who:
Are allergic to mushrooms
Have used Isotretinoin in last 12 months
Have a history of radiation to the area
Suffer with cold sores or active infection
Have a history of hypertrophic scar formation
Are pregnant or are breast feeding
What is DermaQuest Skin Brite?
DermaQuest uses the latest in skin brightening ingredients, Chromabright, which provides results as effective as 2% Hydroquinone but without toxicity or any bleaching agents. Chromabright works by effectively brightening and lightening damaged skin only, correcting pigmentation and melasma by inhibiting Tyrosinase production. Combining Chromabright with additional ingredients, such as Alpha Arbutin, the DermaQuest SkinBrite System is the ultimate pigmentation treatment.
The peel combines three acids (Phytic, Mandelic and Lactic) working to diminish pigmentation and even the skin tone, providing a more even skin tone which is softer and smoother in appearance. The Phytic Acid is a tyrosinase inhibitor to help suppress the melanocytes to prevent and reduce pigmentation and promote a more even skin tone. The combination of the exfoliating AHA's, Mandelic and Lactic acids provide a brighter, refined texture to the skin.
The DermaQuest SkinBrite Peel can be used in conjunction with micro-needling, IPL and Laser, although with the powerful ingredients of SkinBrite you might not need to. Working alongside the SkinBrite Peel, a full range of home care products are available that will support treatment and offer additional benefits through the inclusion of Chromabright, Kojic Acid, BV-OSC, Alpha Arbutin, Liquorice Extract, Emblica and Vitamin C into a daily routine.
Before and after a SkinBrite peel when used in combination with products: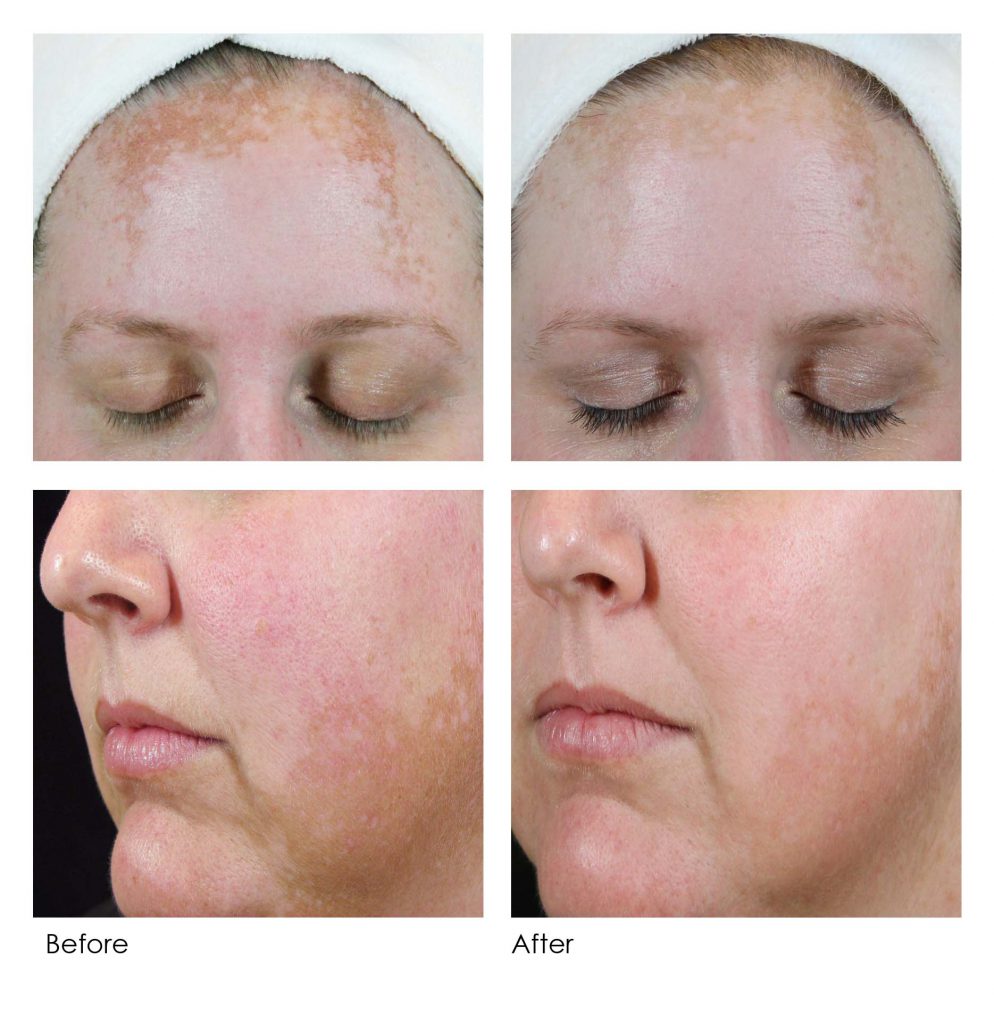 We recommend you use products to prepare your skin 3-8 weeks before this treatment. Please book a consultation with Kate if you would like to range this treatment.