Hair loss treatment has changed considerably over the past few years with many different options available and other new exciting treatments on the horizon. The specialists working at Cheshire Lasers Clinic provide several methods for improving the effects of hair loss.
Here at Cheshire Lasers, we understand that losing your hair can be a very sensitive and difficult subject to discuss. It is important that you find the right clinic for your treatment, but most importantly the right treatment that meets your needs with someone you can trust.
---
Scalp Micropigmentation is a non-surgical, cosmetic solution for males and females suffering from hair loss and thinning hair. Micropigmentation is used to create the illusion of real hair. At Cheshire Lasers this treatment is carried out by Helena Fryer, an independent visiting specialist. Helena's Before and After results are extremely impressive.
The treatment not only gives her clients the look of a full head of hair again, but really helps to build their self-confidence.
Consultations with Helena are free of charge.
---
Hair Loss / Alopecia Treatments with Dr Priyanka Vaidya
Dr Priyanka is an independent visiting specialist who is very passionate about hair loss treatments.
Her approach to hair loss management is holistic. All consultations start by taking a detailed history, including; a family history followed by a careful examination. Dr Priyanka will the look at your diet and lifestyle. Her aim is to try and establish the cause of hair loss before starting any treatment.
Dr Priyanka's treatment plan usually includes a combination of the following treatments:
A diet plan together with supplements
RRS Mesotherapy
Mesotherapy is an injection treatment known as XL Hair that introduces a cocktail of vitamins, minerals and hair fortifying agents into the layers of the skin where there is cell repair and growth. Treatment is primarily carried out on the top of the head and only works if the hair bulbs are still alive.
The first results may be after three or four treatments. Initially patients may see less hair loss, then after around two months new hair appears. Initially small or weak, by the next month they will be stronger and thicker with good volume.
The treatment protocol is once a week for 8 weeks and then monthly. Currently Dr Pryanka is offering the treatment of RRS Mesotherapy at £150 per session or a course of 8 treatments for £1200.
PRP Dracula Therapy
PRP Therapy is a very natural, modern method of choice for quality hair restoration. It is a safe non-surgical procedure with significant results. It is an injectable treatment, which uses the patient's plasma containing active growth factors to promote hair growth. These growth factors may help hair grow, or at a minimum, slow down hair loss. The result leaves the patient with fuller healthier looking hair.
The number of treatments will depend on patient's hair condition and will be discussed by Dr Priyanka during the consultation. Generally, the number of treatments will be four to six treatments at four week intervals. You will see significant hair growth beginning at six months and continuing thereafter. Determining factors are the amount and cause of hair loss.
Overall, patient satisfaction is high, with this treatment receiving an average rating of seven out of 10. Patients are advised to consider repeat treatments in intervals of six to 12 months to maintain their hair restoration progress.
The treatment is £300 per session and a minimum of four treatments spaced one month apart is recommended.
Combination PRP and RRS Mesotherapy
Amazing results have been shown using a combination of PRP growth factors and RRS Mesotherapy.
The following before and after images show the results after a course of XL hair mesotherapy part of the RRS mesotherapy range.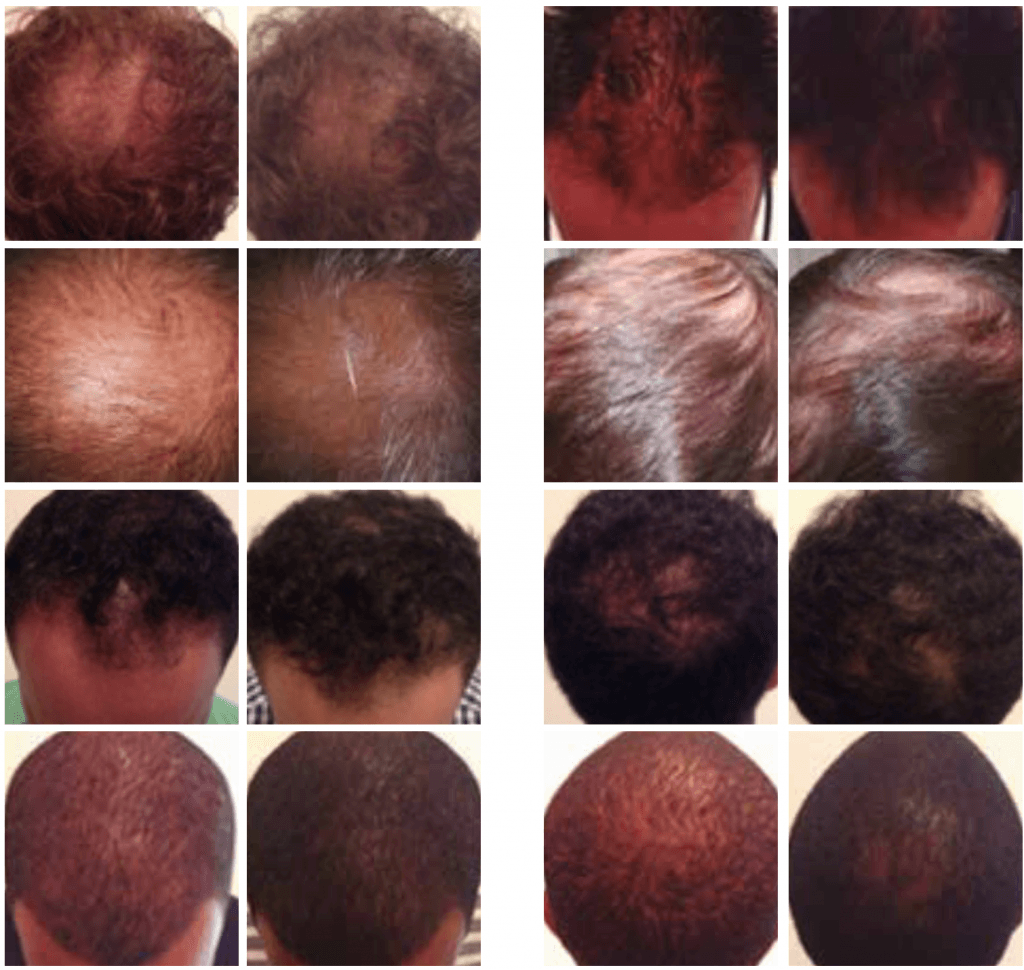 ---