---
What is the best Thread Vein Removal Treatment for Facial Thread veins?
Laser and Intense Pulsed Light (IPL) Treatments are the most effective treatments for the removal of facial veins.
At Cheshire Lasers, we mostly use Intense Pulsed Light for the removal of thread veins and permanent red flushing on the face. Our very effective Lumina ASQ system made in Holmes Chapel by Lynton Lasers is a very effective system that quickly removes veins that are too small for other removal techniques.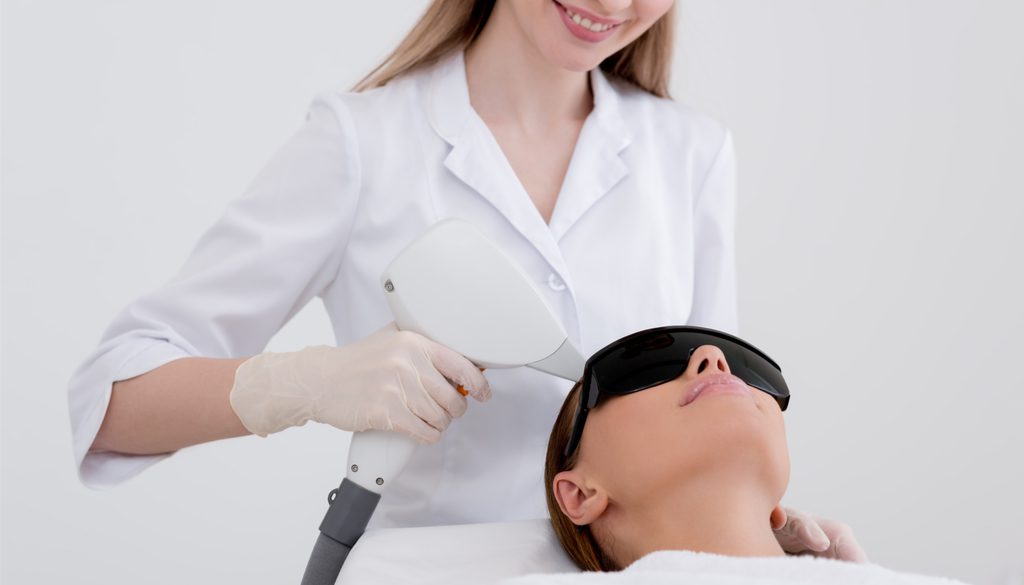 ---
Which Veins can Laser and IPL treat?
We can treat most red skin lesions on the face with our Lynton system, including thread/spider veins, rosacea, spider naevi, cherry angiomas and port-wine stains. We can also treat spider naevi and cherry angiomas anywhere on the body.
If you have leg veins – Cheshire Lasers recommends Sclerotherapy thread vein removal find out more here. 
---
Who performs the IPL and Laser Red Vein Removal treatments at Cheshire Lasers?
At Cheshire Lasers, our NVQ Level 4 IPL and Laser technician performs all our facial thread vein removal treatments.
---
Before and after images for the Removal of Facial Red / Thread Veins: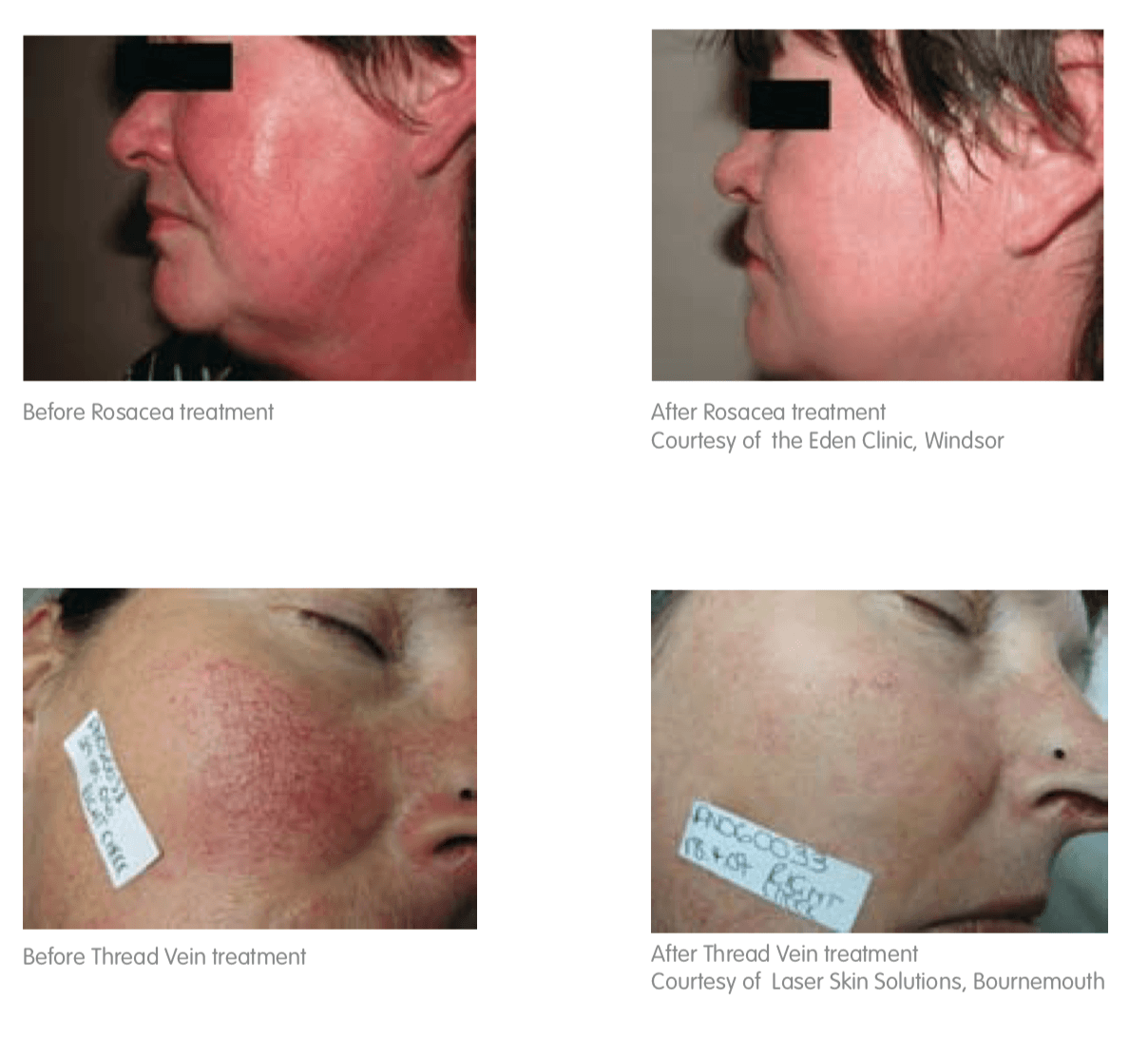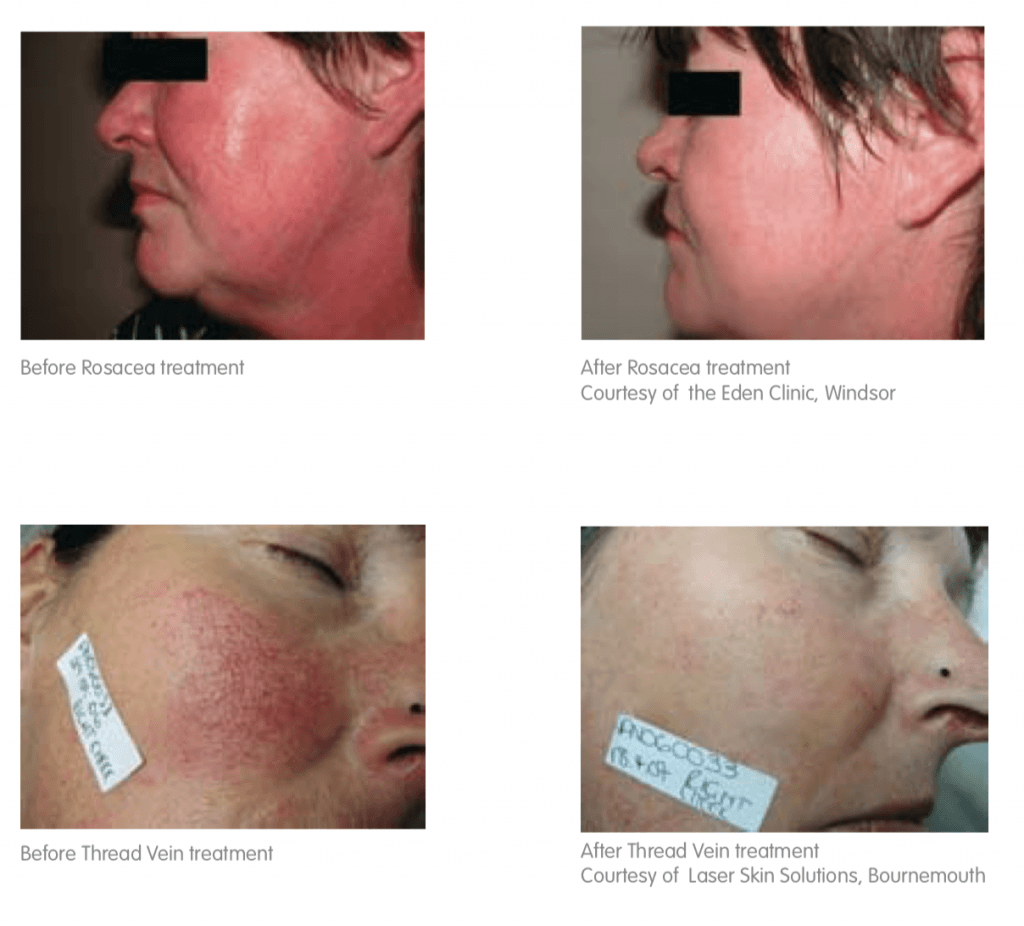 ---
Vein Removal Consultation Procedure
Prior to any treatment, our Level 4 NVQ laser and IPL technician will provide a full consultation. The consultation identifies your expectations and provides a complete explanation of the treatment.
Our technician will take a medical history to confirm you are suitable for treatment. If you then wish to start treatment, they will go through a consent form with you. They will discuss the treatment in detail and what you should and should not do to avoid side effects and achieve the best results. Our technician will give you some written information to remind you of all the important information.
They will then perform a test patch to assess how you react to the treatment on a small area.
---
How does IPL Red Vein Treatment work?
The intense pulsed light system releases precisely controlled short pulses of filtered light that are absorbed by the blood vessel, heating it to a point where it is destroyed. Following treatment, the vessels quickly clear and are reabsorbed by the body, leaving little or no trace of the original lesion.
---
What does an IPL Red Vein Treatment involve?
You will be asked to put on goggles to protect your eyes. A layer of chilled gel is applied to the area to guide the light into the skin. The light applicator is placed on the skin, and a short pulse of light is released. The applicator is then moved to the neighbouring area, and the process is repeated until the entire area is treated. The chilled gel is removed, and the area is cooled.
---
Am I suitable for IPL Red Vein Treatment?
The fairer the skin, the easier the treatment.
Small solitary thread veins, spider naevi, and rosacea respond the best.
We can not recommend this treatment if you are pregnant or breastfeeding. You are also not suitable if you are on medication that makes your skin sensitive in general ( e.g. steroids) or makes it sensitive to light.
If you have a suntan or a dark skin type, you are not suitable for this treatment, and we would recommend Advanced Electrocautery instead.
---
How does the treatment feel?
Most patients describe the discomfort as uncomfortable but acceptable. Sensations vary, but most describe the discomfort as a very quick hot pin prick.
---
Is IPL Red Vein Treatment safe?
After treatment, the area may go red and feel warm for a few hours. Sometimes delicate skin areas such as the cheeks or décolletage could be red and slightly swollen for up to 48 hours and sometimes small blisters may form. The vessels should fade quickly. Rarely the skin may become lighter or darker, or larger blisters may develop.
---
How long does each treatment take?
Treatments typically take from 15 to 45 minutes, depending on the type and size of the lesion.
---
How many treatments are necessary?
Most people need between 1-5 treatments. This depends on the severity of the problem and how well it responds to treatment.
Treatments should be 4 to 6 weeks apart.
---
---
---
---
---