---
To keep up to date with the changes in the ZO products you use and make sure your skin protocol is the best for your skin and following the latest advice from Dr Obagi himself.
Makes sure you arrange to see one of our ZO trained practitioners/prescribers who can review and update your regime. We recommend you speak to one of them at least every 6 months.
---
Arrange your ZO Skin Health Review to benefit from this offer.
---
October 2019
Introducing ZO Skin Health's newest innovation, Firming Serum.
Firming Serum is specifically designed to visibly tighten and firm the skin for a more defined facial contour. The bioactive formula supports the structural integrity of the skin to improve the appearance of sagging and skin laxity. An anti-aging breakthrough in skin structure + shape. This mild, lightweight and tolerable formulation is indicated for all skin types and sensitive skin areas to reinforce skin health and hydrate to support the visible improvement in skin elasticity and firmness.
Visibly tightens and firms the skin
Improves the appearance of sagging and skin laxity
Helps define facial contours
Supports healthy skin structure and the skin's natural renewal process
Defends against free radical damage
Find out more about this amazing Firming Serum and view before and after images here.
We have a launch offer with 20% off the RRP of Zo Skin Health Firming Serum in November to allow our customers to trial the product and feedback their results.  ( Can not be combined with any other promotion or offer)
To find out more about how to add it into your ZO skin Health regime please contact us.
May 2019
Product Update
Revitatrol has been improved and renamed Hydrating Creme. It has moved into the ZO Skin Health packaging.
Hydrating Crème helps improve the overall appearance of the skin by restoring hydration, calming redness and smoothing skin texture. With continued use, patients reported that their skin felt healthier and smoother, and was more hydrated and less red.
After 4 weeks of use, 89% of patients showed significant improvement in skin hydration. After 8 weeks, 70% of patients showed significant improvement in redness, 100% of patients showed significant improvement in texture and smoothness and 82% reported diminished itching.
Restoracalm has now been discontinued.
---
February 2019
ZO Growth Factor Serum has been improved and no longer contains Retinol.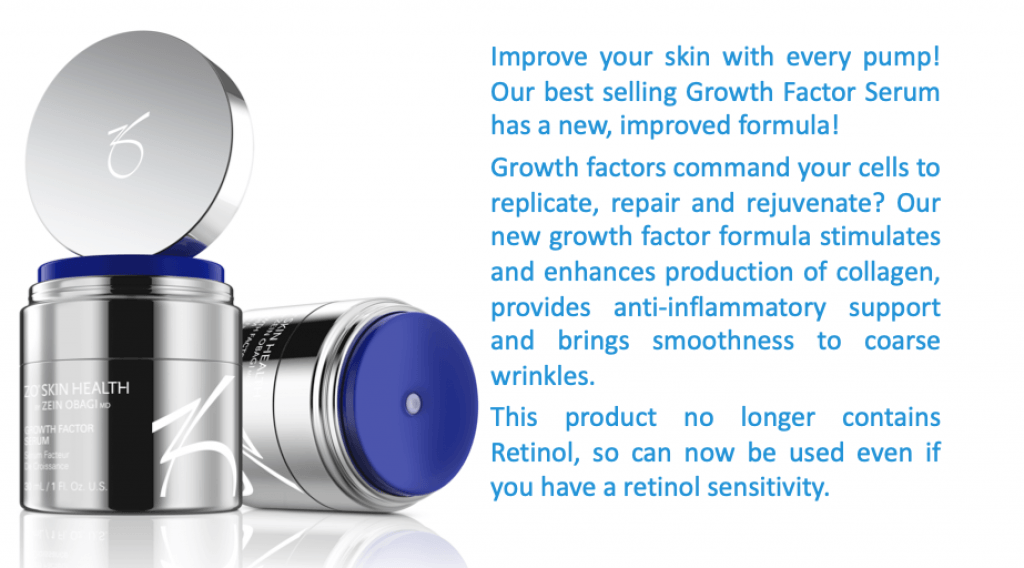 ---
December 2018
Changes to some of the Kits
Please note the following kits no longer contain the trial size SPF and primer, due to ZO Skin Health now offering 4 different options of SPF for the face. This way we can recommend the SPF suited best to your skin type. The good news is the kits contain a slightly larger size cleanser and more complexion renewal pads and are at least £20 cheaper.
Phase 1 Kit – Daily Skincare Program
Phase 2 Kit – Anti-Ageing Program
Phase 3 Kit – Aggressive Anti-Ageing Program
---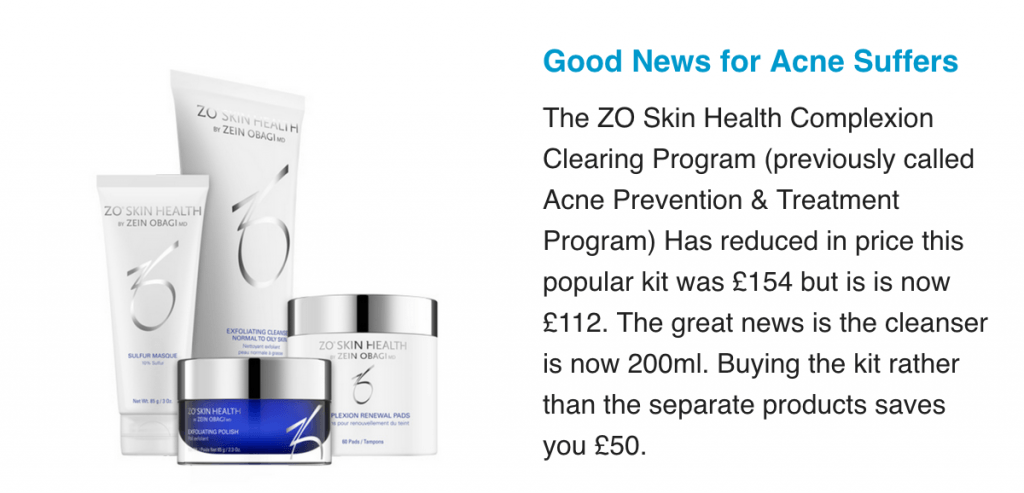 ---
November 2018
New Product Names
ZO Skin Health has renamed some of its products here is a table to advise you of the new names:
| | |
| --- | --- |
| Old name | New Name |
| Retamax | Wrinkle and Texture Repair |
| Invisapeel | Enzymatic Peel |
| Brightenex -0.5/0.1 % | Retinol Skin Brightener -0.5/0.1 % |
| Vitascrub | Dual Action Scrub |
| Glycogent | Exfoliation Accelerator |
| Intense Eye Repair | Intense Eye Cream |
| TE pads | Complexion Renewal Pads |
| Cebatrol | Oil Control Pads |
| Aknetrol | Acne Control |
---
October 2018
Selected products are now available on prescription only: