---

---
The CACI Jowl Lift has been developed to target muscle laxity around the jawline. Its aim is to improve the appearance of sagging jowls, by lifting and firming facial contours to help achieve a natural, younger look without any discomfort or down time.
---
What is CACI ?
CACI stands for Computer Aided Cosmetology Instrument and is a system used for non-surgical facelifts. CACI treatments involve the use of micro-current energy, which is transmitted to the skin and muscles stimulating increased muscle tone and collagen production. This leads to a lifted, firmer and refreshed appearance.
---
Whats is a CACI Jowl Lift ?
The CACI Jowl Lift facial uses Quad Probe applicators designed to double the lifting action of the standard CACI treatment system thereby enhancing results and reducing treatment time. These Probes send tiny electrical impulses into the lower half of the face and the upper neck area to tone the muscles, improve skin elasticity and reduce the appearance of fine lines and wrinkles, and redefine facial contours.
There is also a unique serum in the Quad Probe tips, this contain a powerful skin firming formula to maximise the firming effect.
---
Before and after a course of CACI Jowl Lift treatments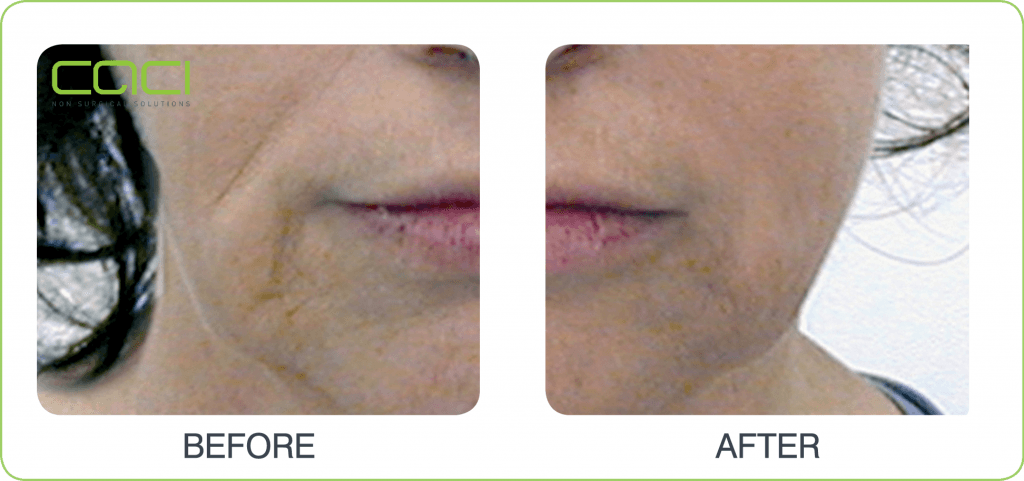 ---
How long does a CACI Jowl Lift take?
This CACI Jowl Lift takes only 15 minutes to perform. This is due to the Quad Probes specifically developed to target the muscles around the jawline.
At Cheshire Lasers we recommend you schedule 30 mins when booking your appointment CACI Jowl Lift appointment.
---
Does it Hurt?
The CACI Jowl Lift treatment is completely painless, although some clients may experience a slight tingling sensation due to the micro-current or a metallic taste, which is perfectly normal.
---
How many treatments do I need?
The number of CACI Jowl Lift treatments needed may vary according to an individual's needs. For best results, Cheshire Lasers recommends a course of about 10 treatments over a 5 week period.
---
When will I see results?
Results will be seen throughout the course however these are often short-lived at first. By 5 treatments you usually start noticing improvements in your skins tone and texture. You will then start to see gradual improvements in the jowl as the muscles start to firm and tighten.
---
Do I need maintenance after the course?
A maintenance session once a month will help maintain your new and improved muscle tone and the results achieved!
---
CACI Jowl Lift is a stand-alone treatment, but you combine it with one of our other CACI Non-Surgical Facelifts
---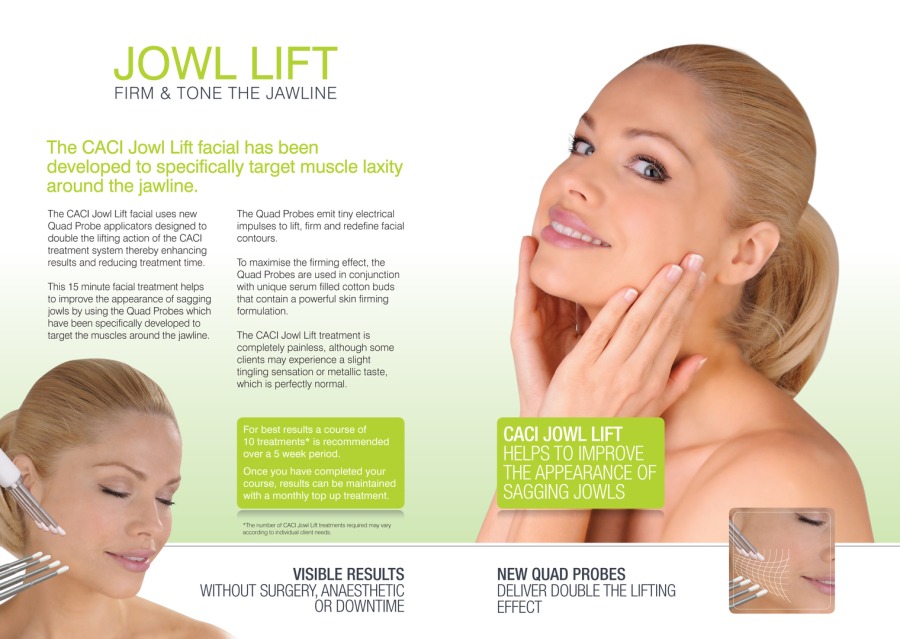 ---
---
---
---