---

---
What is a pHformula TCA Touch Peel?
TCA is a powerful acid used in the more aggressive chemical peels for skin improvement and rejuvenation. It promotes rapid skin improvement and also dermal collagen remodelling. The acid damages the surface of the skin, which then causes healing and repair. Although it works wonderfully, it also comes with a  much higher risk of side effects in comparison to milder peels.
pHformula uses a unique delivery complex PH-DVC™, which transports the TCA molecules into the deeper skin layers allowing the active ingredients to work deeper within the skin rather than damaging the surface. This complex significantly reduces skin injury. Therefore the skin is more tolerant, and there is rarely any downtime, unlike many other TCA peels.
pHformula TCA Touch contains:
30%  TCA
Arbutin for its skin-lightening properties
Magnesium Sulfate for its anti-inflammatory effect
PH-DVC the delivery complex
This combination results in intense stimulation and cell renewal with excellent skin tolerance and effectiveness.
The PH-DVC complex allows for maximum efficacy without the negative side effects normally seen with conventional peelings, allowing controlled protons release. No severe superficial trauma, complications or side effects and excellent skin tolerance!
---
When to consider a TCA Touch Peel
TCA Touch has an instant lifting and cell renewal effect ideal for anti-ageing but can help improve skin with a range of problems.
Sun-damaged skin
Lines and wrinkles

Pigmentation and skin discolouration

Newly obtained scars
Suitable for all skin types
Can be used on the face, neck and décolletage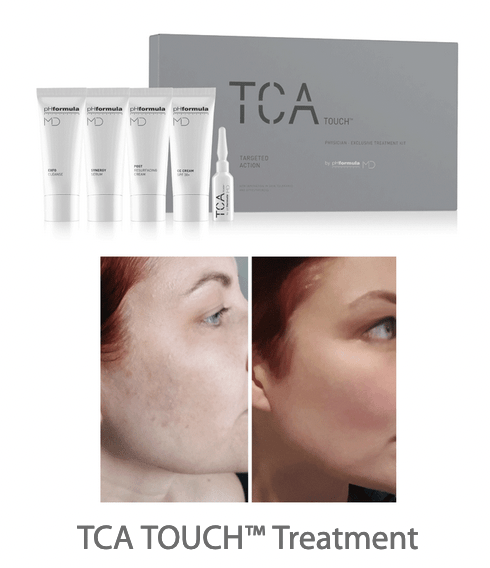 Find out more about pHformula TCA Touch and view other before and after images here.
---
Contraindications to TCA Touch
This treatment is very safe.
The main contraindications include:
Pregnancy
Breastfeeding
Infection near the treatment area
Any skin infection
Sensitive skin
Sunburn
---
How often can I have treatment:
The TCA Peel is usually a one to three-session treatment with around 4 to 6 weeks in between each session.
At your review, our doctor can assess your skin and decide with you if further treatments are appropriate.
---
What reactions may I have?
Normal Reactions include:
Mild irritation at the time of application.
Redness
Tightness
Flaking or mild shedding
Peeling
Temporary dryness
---
Aftercare
It is important that you:
Avoid direct sun exposure for a few weeks after treatment.
Use a high SPF
Our doctor will recommend prescription home care to prepare your skin for treatment and to use after the treatment. It is important that you use only these products for the next 2-3 weeks to achieve the best results and to help the healing process after the skin resurfacing treatment. Using other products can increase the risk of unwanted reactions.
The prescription strength products are all formulated with the unique PH-DVC™ complex to help you achieve the best possible results.
24 hours post-treatment, tightness and dryness may be seen; the use of the homecare alleviates this.
48-60 hours later, you may see flaking or mild shedding
---
What does the TCA Touch Treatment involve?
The treatment takes only 30 minutes.
It involves cleansing the skin and applying a primer to remove any surface oil and maximise penetration of the peel complex.
Two layers of the  TCA Touch™ solution are massaged gently into the skin which is then soothed with pHformula post-procedure cream and protected with UV Protect SPF 50.
---
Who Performs pHformula TCA Touch?
Dr Kyra Drinnan performs pHformula TCA Touch treatments at Cheshire Lasers.
You can view more information about her here.
---
How much is a pHformula TCA Touch Treatment?
You can view Dr Drinnan's prices here. 
To book phone 01606 841255 or book an appointment online here:

---