---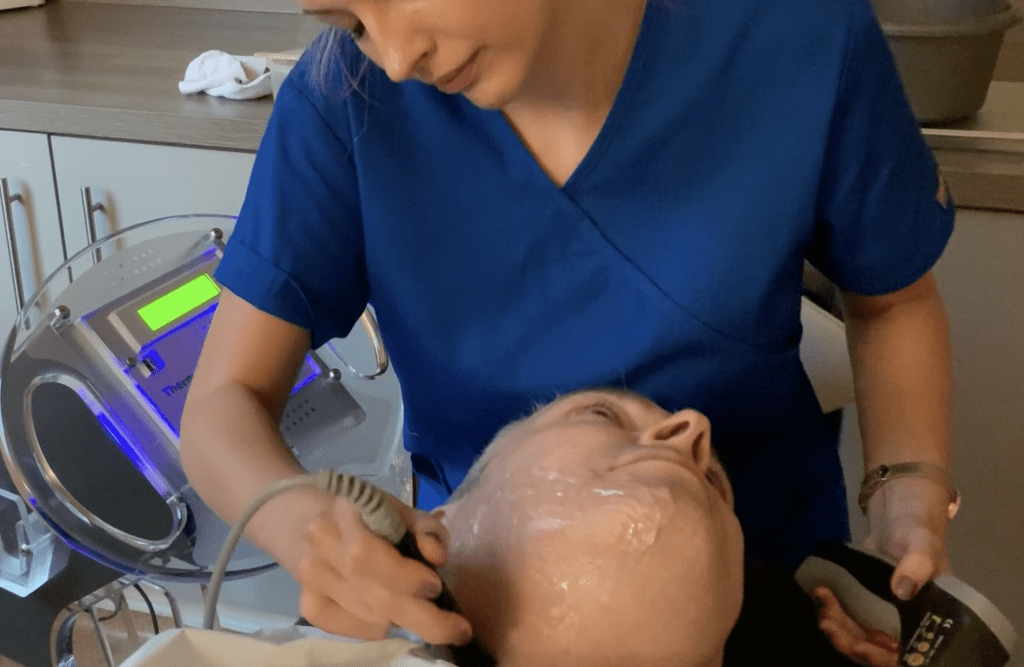 ---
ThermaClinic is a Radiofrequency treatment available at Cheshire Lasers. It offers an effective and comfortable way to achieve facial skin tightening and wrinkle reduction. After a course of treatments, you can enjoy tighter, younger looking skin with improved skin tone, texture and elasticity.
The ThermaClinic is a safe, clinically proven system for treatment of facial wrinkles and skin tightening. Virtually pain-free, the ThermaClinic with AMFLI technology (Automatic Multi-Frequency & Low Impedance RF) tightens skin and renews facial contours by reshaping your skin.
---
Is the treatment effective?
Yes – the system has been designed by dermatologists and proven to be highly effective for hundreds of people.
Cheshire Lasers has been providing ThermaClinic Radiofrequency treatments for almost 10 years and it is still very popular.
View our before and after images.
---
How does ThermaClinic Work?
A bipolar applicator transmits Radiofrequency (RF) energy into the skin. The energy gently heats the skin which promotes accelerated collagen production and contraction of collagen fibres to restructure and tighten the skin.
---
What does a ThermaClinic treatment involve?
A thin layer of gel is applied to the face and an applicator delivering the Radiofrequency current is moved in circular motions to warm the skin. The desired skin temperature is reached quickly and then maintained for 2 to 3 minutes. Typically each treatment session lasts 30 to 45 minutes. The gel is removed and a cooling lotion is applied.
---
Am I suitable for treatment?
Yes, ThermaClinic is suitable for most individuals. However, if you are pregnant or breastfeeding, treatment is not advisable. If you have metalwork in the facial area, please discuss this with us further. Simple fillings and dental implants are usualy not a problem but metalwork inserted following facial fractures and metal braces can be a problem.
---
What should I expect after treatment?
Your skin may be pink for a short time after treatment but this will subside quickly. You can continue with life as normal and will not need any special aftercare. Immediately after treatment, the contraction of collagen fibres improves skin elasticity and the skin may appear firmer. However, the benefits are progressive and the full effect is generally seen 2 to 3 months after a series of treatments. See one of our case studies.
View a video of this treatment
---
How many treatments are necessary?
A course of 6 to 8 treatments – at 1 to 2 weekly intervals.
---
How does the treatment feel?
Treatment is not painful – most people actually comment on how pleasurable and relaxing the heating sensation is! Treatment is comfortable due to the unique, multi frequency technology of ThermaClinic.
---
Are there any side effects?
Side effects are extremely rare.
You can experience slight, short term discomfort.
Oedema (swelling) and erythema (redness) can occur but will disappear within a few minutes or hours.
Very rarely you may notice a red blemish on the face where skin may have got too hot. This usually settles after a few days.
---
Consultation procedure prior to treatment
At Cheshire Lasers, we ask that you undergo a consultation with one of our Aestheticians before starting a ThermaClinic Radiofrequency treatment. They will asses your medical history and confirm you are suitable for treatment. It is also important that we discuss and understand your expectations so they can discuss whether the treatment will provide you with the results you are hoping for. They will then ask you to complete a consent form.
---
What do our Cheshire Lasers Clients think About Thermaclinic Radiofrequency?
Review from Alex:
I have been having ThermaClinic treatments regularly for a number of years now and I have found that the treatments help to give a lifting and firming effect on my face and neck. I especially like this treatment as it is comfortable and pleasant to have done and does not irritate my sensitive skin in any way. I also feel that the treatments are good value for money when compared with other anti-ageing treatments. I would definitely recommend ThermaClinic, at Cheshire Lasers, to help improve skin elasticity and maintain firmness.
Review from Judith:
I have been having ThermaClinic radiofrequency treatment at Cheshire Lasers for several years now. After the initial course of 6, I saw an improvement in my skin and softening of my forehead, eye and upper lip wrinkles. I continued to have maintenance treatments every 6 to 8 weeks and overtime my wrinkles were zapped away and have not come back. My friends seem to be more and more aged looking and wrinkly each year, but I have not aged hardly at all thanks to ThermaClinic.
Review from Clare:
I have recently started a course of Thermaclinic treatments. I was very nervous as I have not had treatments like this before. I have enjoyed the treatments as they are relaxing. So I am excited to see the end result as even after a few treatments my skin looks and feels much healthier. Quite a few people have said how well I look. I would definitely recommend ThermaClinic to people who want to look better but are nervous about having more invasive treatments
---
---
---