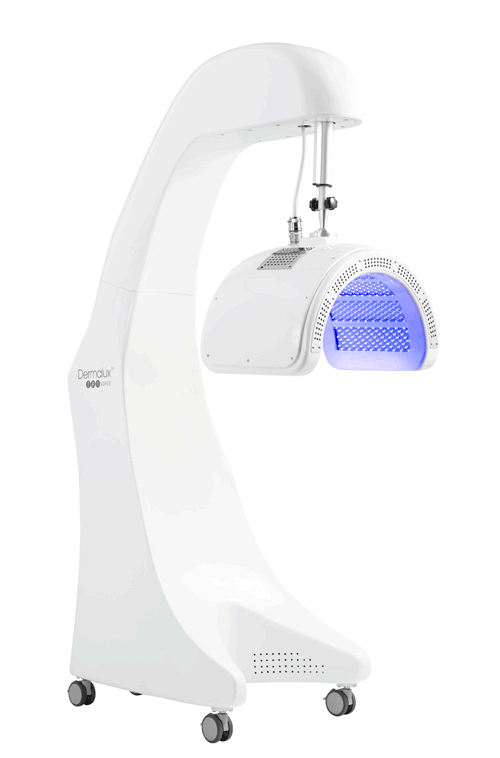 Cheshire Lasers is proud to offer Dermalux LED Light Therapy a revolutionary non-invasive treatment that uses the power of light to rejuvenate, repair and revitalise the skin. It is clinically proven to reverse the visible signs of ageing, clear acne and blemishes, and accelerate healing.
The Dermalux treatment offers a natural, pain-free and effective way to achieve youthful and healthy skin. The visible effects can be immediate, after just one treatment. Skin becomes more hydrated, plump and radiant and any redness and irritation is calmed. A course of treatments offers a more dramatic and lasting improvement in the appearance and health of the skin. Furthermore, you can enhance the results of light therapy by combining it with other skin treatments e.g. Microdermabrasion, Skin Peels, Micro-Needling, Injectables and Laser.
It also provides treatment of compromised and reactive skin conditions. It helps Acne and Rosacea, Pigmentation and other inflammatory disorders as an Eczema, Dermatitis and Psoriasis.
Whats is Dermalux?
Dermalux uses colour wavelengths of visible light that stimulate specific responses in the skin. Its affects on the skin are anti-ageing, anti-inflammatory, anti-bacterial and it promotes healing.
---
Is Dermalux Safe?
Yes, it is safe and anyone can have this treatment unless you have a condition that makes you light sensitive.
Everyone can benefit from LED light therapy. LED's emit a low-level light energy that will not burn or irritate the skin. It is suitable for all skin types and age groups. There is also no risk of unwanted side effects or downtime, which is often seen with more invasive procedures.
The technology of LED Light therapy is over 100 years old. It has been shown in independent clinical research to deliver powerful therapeutic benefits to living tissue. It is medically recognised and has approval to treat for a wide range of skin concerns. LED light is rapidly becoming one of the most powerful skincare treatments.
---

---
Our Aestheticians perform our Dermalux Treatments at Cheshire Lasers
---
What can Dermalux treat?
Sun Damage
Pigmentation
Restoring Radiance
---
How does LED Phototherapy work?
LED Phototherapy uses colour wavelengths of visible light which have specific rejuvenating benefits within the skin. Skin cells have the ability to absorb light and use it as a source of energy to fuel the repair and rejuvenation of damaged cells or neutralise bacteria. It is a natural biochemical reaction similar to that of plant photosynthesis. The increased energy enhances cellular metabolism which stimulates the production of collagen and elastin. This also boosts the circulation and accelerates tissue repair. Studies show LED light wavelengths stimulate skin cells to regenerate themselves on average 150% to 200% faster. They also show LED can increase hydration by up to 600%. This whole process results in radiant, youthful and naturally healthy skin.
---
What are the benefits of LED light therapy?
Red LED light
Used for Skin Rejuvenation, Anti-Ageing and Healing. Red light has a powerful anti-ageing and anti-inflammatory effect on the skin. It is also an excellent treatment for sufferers of sensitive skin conditions such as rosacea, eczema and psoriasis. LED Red Light benefits include:
Minimises fine lines and wrinkles
Skin is smoother, firmer and plump
Evens skin tone
Increases hydration
Soothes irritation and redness
Stimulates blood and lymphatic circulation
Accelerates the healing process
Restores natural luminosity and glow
---
Blue LED light
Used for Acne and Congested Skin. Blue light has powerful anti-bacterial properties that decongest and purify acne and problematic skin and help to normalise oil production. LED Blue Light benefits include:
Assists in killing bacteria in the skin
Reduces active acne
Prevents breakouts
Shrinks enlarged pores
Helps to fight infection
A great alternative to medication
Blue light can also help in the treatment of Seasonal Affective Disorder (SAD) as it reduces the amount of melatonin released. It also has anti-spasmodic properties that relieve tension and headaches. These properties have shown to produce a 'botox' like effect in the skin. It is effective in the treatment of bacterial and viral infections such as cold sores and helps to safeguard against bacterial reaction when used in combination with resurfacing, invasive and ablative procedures.
---
Combined Red & Blue LED light
Helps improve sensitive and problematic skin. The red and blue light in combination offers enhanced benefits and is clinically proven to be one of the most effective treatments for inflammatory acne and scarring currently available. Combined Lights benefits include:
Improved acne treatment
Gently purifies without irritation
Normalises unbalanced skin
Reduces inflammation and swelling
---
Infra-Red LED light
Infra-Red Light in an invisible red light known as infrared. It is the most deeply absorbed wavelength and can penetrate the skin to a depth of up of 40 mm. The deep-reaching benefits also make it effective in the treatment of muscular and joint pain and inflammation. It also helps deeper lines and wrinkles, skin laxity and loss of skin density. It improves uneven skin tone and texture, age spots and hyperpigmentation, photo and environmental damage and stubborn, hormonal and cystic acne.
Infrared light also helps reduce muscular and joint pain inflammation, swelling and bruising, poor circulation and sluggish lymphatic system, wound healing and scar reduction (including burns and ulcers), stretch marks and post-treatment healing.
Infrared light works synergistically with Red light to achieve optimum rejuvenation and repair. This combination of light therapy stimulates the body's regenerative metabolism and enhances cellular function for improved strength, resilience and immunity making it a powerful anti-ageing and healing treatment.
You can also combine infrared with the blue light.
---
Can I see results straight away?
Following a Dermalux treatment, there are some immediate visible changes in the skin but most changes occur naturally over a series of treatments. Results may continue to improve up to 4-6 weeks after a course as LED Phototherapy continues to stimulate the natural cellular processes to rejuvenate and improve the quality of the skin.
---
How many Dermalux treatments do I need?
We recommend a course of treatments for optimal and lasting results. However, a single Dermalux session is an ideal 'pick me up' to replenish vital hydration, restore radiance or simply to calm irritated skin. You can combine Dermalux LED Phototherapy with other skin treatments to further enhance results.
---
At Cheshire Lasers we provide the following Dermalux Treatments:
Express Dermalux 35 minute Facial –  Includes a basic facial and a 25 minute light treatment
Classic Dermalux 55 minute Facial – Includes a standard facial and 25 minute light treatment
Luxury Dermalux 65 minute Facial – Includes a luxury facial with a massage and a 25-minute light treatment
---
Check out a video about how Dermalux works: