---
Here at Cheshire Lasers, we have a wide range of in-clinic and home care treatments for red skin.
Red skin is caused by a range of problems, and the treatment of choice depends on the cause.
---
Redness caused by vessels
Broken Blood Vessels, Thread Veins and Cherry Angioma respond to Laser, IPL, Electrolysis or Electrocautery.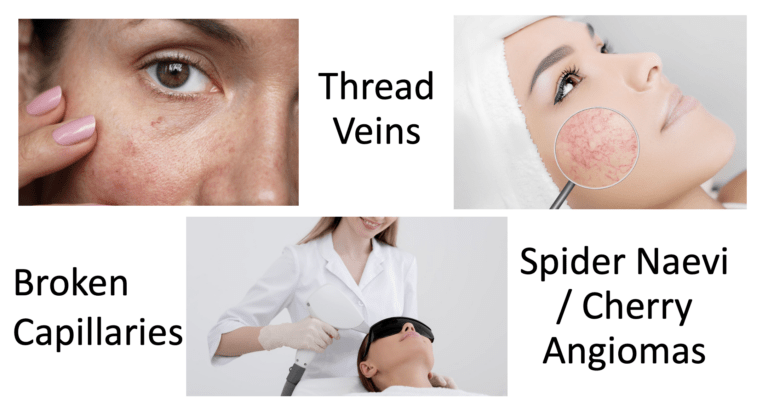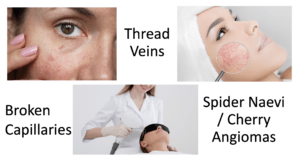 ---
Skin with an Impaired Skin Barrier
An impaired skin barrier can cause inflammation and redness. This can be caused by stress on the skin some as extreme heat or cold, or products applied to the skin, as well as skin conditions such as Dermatitis, Eczema, and Psoriasis. Sometimes the skin appears angry and inflamed; other times dry and flaky, but sometimes the barrier breakdown can be more subtle in appearance.
To improve redness in these situations, we need to repair the skin barrier first before addressing any remaining redness.


---
Skin with Inflammation
Inflamed skin can be treated with:
pHformula CR Treatments
pHformula's CR home prescription treatments have anti-inflammatory and antimicrobial effects to improve chronically red skin.
For best results, combine these with our in-clinic pHformula CR ( Chronic Redness) Treatments.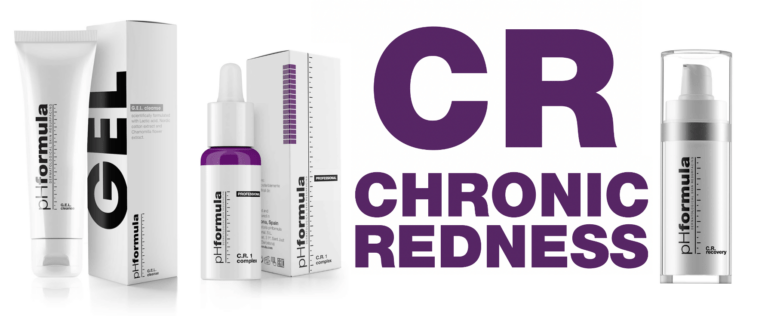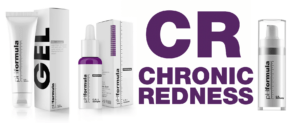 Chronic Redness Treatments can help skin with problems such as Flushing, Sensitive Blotchy Reactive Skin, Angry Inflamed Skin, Rosacea and Acne-prone skin.
---
Dermalux LED Light Treatments
Dermalux  LED is  an excellent treatment for red skin. It helps improve inflammation and sensitive skin due to any cause, including skins with Acne, Rosacea and Eczema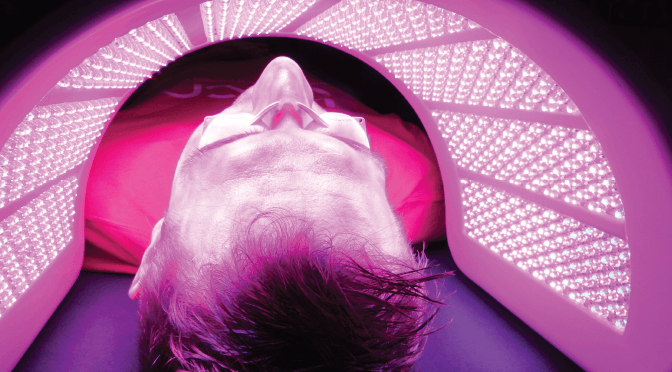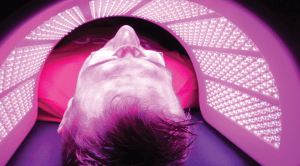 ---
Home Treatments for Redness
pHformula Prescription Home Treatments
pHformula has an extensive range of prescription products to treat red skin.

The prescription products include:
CR Recovery: Retinol, Lactobionic Acid, Azeloglycine and PH-DVC™, pHformula's powerful delivery system. 
Vita D Cream: Vita D booster complex, Prebiotic complex,  and the pHformula 24-Hour Moisturising complex. It is indicated for Photoageing  and premature ageing, Acne, Atopic dermatitis Psoriasis, Impaired barrier and Inflammation
VITA B3 cream: 5% Niacinamide and 24-Hour Moisturising complex. It is indicated for Photoageing, Dark spots, Acne, Transepidermal Water Loss, Impaired barrier Inflammation
pHformula 24-Hour Moisturising complex consists of Shea butter, Avocado oil, Sesame seed oil, and Sunflower seed oil. Contains vitamins A,B1, B2, B3, B5, B6, B7, B9 and B12, D, E, F K. It also contains minerals such as Potassium, Calcium, Phosphorus, Magnesium and Iron as well as trace elements such as Iodine, Selenium, Zinc, and Manganese, omega 3 and 6 fatty acids.
SOS rescue oil  This dual-phase S.O.S. rescue oil is a unique combination of oil blends and naturally sourced actives, infusing the skin with a healthy glow and youthfulness. Collagen production improves, helping soften the look of fine lines and wrinkles while visibly firming skin. Provides natural barrier protection for the skin.
SOS repair cream is an ultra-rich repair cream that helps to protect the skin against moisture loss, providing hydration and comfort to extremely dry or sensitized skin.
G.E.L. cleanse A gentle, soap-free cleansing gel for all skin types. Thoroughly removes impurities without disturbing the skin's natural moisture balance, leaving the skin fresh and clean. A gentle anti-inflammatory cleanser that reinforces the natural barrier of the skin and also thoroughly removes make-up, oil and impurities
---
Neostrata Redness Neutralizing Serum
Neostrata Redness Neutralizing Serum is a powerful anti-ageing treatment for red skin.
It helps restore and strengthen the skin's important protective barrier and also helps to calm sensitive skin, such as Rosacea.
This light cooling serum is formulated with Neostrata Biocalm Complex, a blend of ingredients to target the sources of redness.
Instructions: Apply twice a day under moisturiser
6% PHA (Gluconolactone and Lactobionic Acid):
Gluconolactone is found naturally in the skin and provides antiaging and gentle exfoliating benefits without sun sensitivity. It acst as an antioxidant and also strengthens the skin's moisture barrier.
Lactobionic acid is also part of the PHA family and is also non-irritating. It has a powerful hydrating effect and also helps strengthen the skin's lipid barrier. It has some antioxidant properties and the benefit of other acids by improving the texture and thickness of the skin.
BioCalm Complex: Formulated to enhance the skin's resistance to drying environmental stressors.
Willow Herb + Algae Extract: Known to provide antioxidant protection.
For best results, we recommend a Neostrata Cleanser, Moisturisers and SPF.
---
ZO Skin Health Redness System
The ZO Skin Health Redness System is a home treatment for Redness.
For best results, a ZO Skin health Regime is recommended
ZO Cleanser am and pm
ZO Oil Control / Toner
ZO Polish/ Scrub
ZO Daily Power Defence am and pm
ZO Rozatrol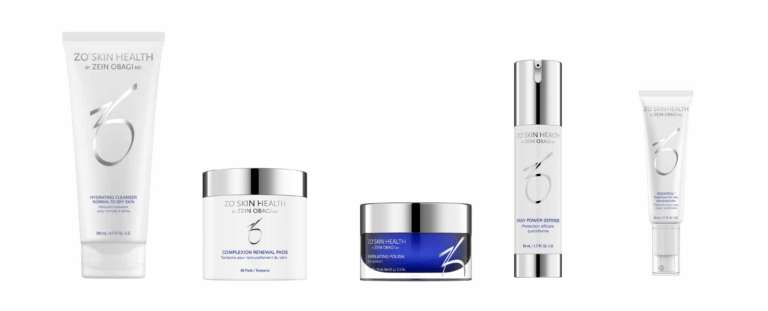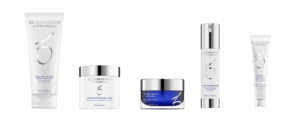 Rozatrol is a serum for red, sensitized skin. It works to normalize skin by reducing excess surface oil. Exfoliating properties provide ultra-mild exfoliation to prevent the signs of premature aging.
Benefits of Rozatrol include
Advanced amino acid complex helps to restore skin to a more radiant appearance
Provides mild exfoliation to help smooth skin texture and even skin tone
Antioxidant protection helps minimize the appearance and feel of inflammation and damage induced by daily oxidative stress
Helps replenish hydration and support healthy skin barrier function
The Key Ingredients include:
Lactose, milk protein, brassica oleracea italica extract:  Helps soothe skin through hydration, minimizing the appearance of red, sensitized skin.
Farnesyl acetate, farnesol, panthenyl triacetate: Helps reduce oil
Papain:  Provides gentle, enzymatic exfoliation to improve skin texture and tone
ZO-RRS2®: Exclusive plant stem cell complex provides powerful antioxidant protection
Glycerin:  Replenishes hydration
Daily Power Defence is a powerful antioxidant serum that improves the appearance of lines + wrinkles and also promotes overall skin health.
Benefits of DPD include:
Provides antioxidant protection to combat free-radical damage.
Helps tighten and firm the skin
Promotes skin health
The Key Ingredients include:
Ultrasomes (UV-endonuclease) and roxisomes (glycosylase):  Introduces enzymes to help speed up the skin's natural repair process
Vitamin E: Provides antioxidant properties.
Ceramide 6: Helps restore barrier function.
Matrixyl 3000 (palmitoyl oligopeptide and palmitoyl tetrapeptide-7): Firms and re-densifies.
---