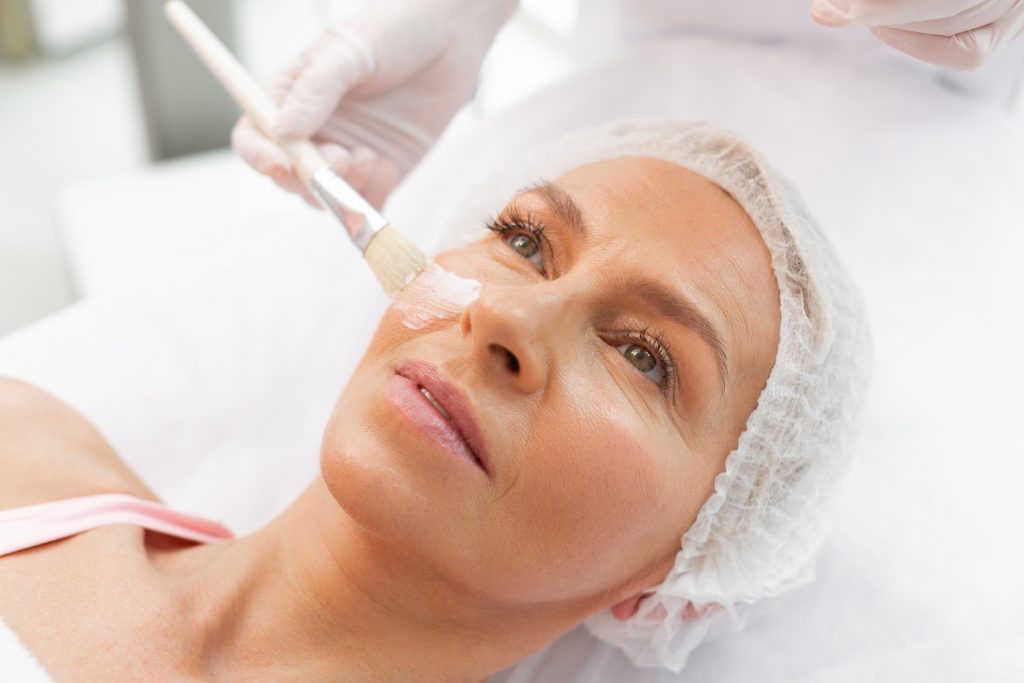 Who do you recommend the Glo Flower Enzyme Facial for:
We recommend the Glo Flower Enzyme Facial for all skin types. It is especially good for exfoliating skin that is sensitive to Hydroxy Acids and/or physical exfoliants or if you just want a light exfoliation.
It revitalizes the skin with fruit enzymes that gently remove superficial dead skin cells. Flower extracts contribute mild organic acids to gently stimulate and tone skin while providing antioxidant protection.
Anyone with a Bromelain (or Pineapple) sensitivity should not use this product
How often should I have a treatment?
For best results, we recommend a treatment every 7-14 days. Usually, it takes 4-6 superficial exfoliation treatments to see significant improvements unless you use home care treatments to boost the results.
You can, however, see slight improvements after one treatment if you feel like a skin pick me up.
What does a Glo Flower Enzyme Facial involve?
This treatment is a gentle GLO peel, it provides a level 1 Exfoliation.
You will need a patch test at least 24-48 hours prior to treatment.
This treatment lasts approximately 50 minutes unless you opt for a Luxury Enzyme Facial which includes a hand and arm massage and lasts 60 minutes.
PRE-CLEANSE / MAKEUP REMOVAL
Using our Gentle Conditioning Cleanser.
CLEANSE
With Purifying Gel Cleanser or Hydrating Gel Cleanser depending on your skin type while performing a gentle massage.
TONE
The cleanser is rinsed away then Glo Purifying Tonic is applied to prepare the skin.
PREP
Peel preparation is then applied with 2×2 cotton-filled gauze pads.
TREATMENT
Glo Flower Enzyme treatment with Hibiscus and Pumpkin extract is then applied to the skin, with or without steam. it is left on for 5-15 minutes and is then removed with a warm towel.
MASSAGE
The face, neck and décolleté are then massaged with Glo Orange Tea Massage Cream.
MASK
A Glo Mask is then applied according to your skin type. (Restorative Mask, Refining Mask or Cucumber Recovery Mask) The mask is left on the skin for 10 minutes leaving you time to relax unless you opt for the luxury facial in which case you will then enjoy a hand and arm massage.
The mask is then removed with a warm towel.
BOOST
To enhance results a serum is applied to boost the results usually the Glo Super Serum, Glo Renew Serum, Brightening Serum, Lightening Serum, Triple Action Serum or Glo Retinol CS.
HYDRATE
A small amount of GloPure Hydration, Glo B5 Hydration or Glo Advanced B5 Hydration to boost water content in the skin depending on your hydration needs.
MOISTURIZE
Glo Oil-Free Moisturizer or Glo Conditioning Hydration Cream may then be applied depending on the needs of your skin.
EYE & LIP
Glo Eye Restore is then applied to the eye area and Glo Lip Revival is applied to hydrate the lips.
PROTECT
An SPF 50 is then applied to complete the treatment.